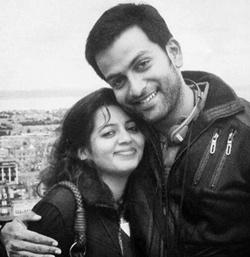 Malayalam star Prithviraj announced on his official Facebook page that he is going to be a father.
The actor shared the good news with his fans through the social networking site. His post announcing wife Supriya's pregnancy has received tremendous positive response from the social media networks.
'This is a post to share something very very special and personal. I guess you guys will know about it sooner rather than later, so you might as well hear it from the horse's mouth. I AM GOING TO BE A FATHER!!' Prithviraj announced
Prithviraj continued: 'Supriya and I are overjoyed and I hope all of you will share our happiness on what I believe is truly going to be the most momentous occasion of our lives. So yes…I'm counting down to the biggest release I will ever have!!'
Supriya was working as a reporter with the BBC, when she fell in love with Prithviraj.
Image: Prithviraj with his wife Supriya. Photograph: Prithviraj/Facebook.