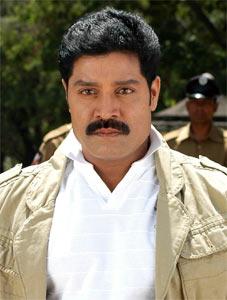 In the midst of shooting for R... Rajkumar in Mumbai, Prabhudheva abruptly flew to Hyderabad on Thursday morning to be with the family of Telugu actor Srihari, who passed away quite suddenly the day before.

Prabhu was the last to shoot with Srihari and was numbed with disbelief when he spoke about his loss. "I can't believe he is gone so suddenly! He is known as the Iron Man in the Telugu film industry. Srihari was one of the fittest healthiest actors I've worked with," he says.

"Srihari died of a cardiac arrest," the director continues. "It was so sudden and unexpected. I was shooting with him two ago for R... Rajkumar in Mumbai. There was no sign of any illness. Srihari was as fit as a lion. If he can go so suddenly, then any of us can go anytime."

Prabhu says he was a part of Srihari's family. "His
mother and sister are like my own mother and sister. They treated me like one of them. How will I face them? What will I tell them? Life shouldn't be so unfair."
A last portion of Srihari's shooting for
R... Rajkumar
remains incomplete but Prabhu isn't thinking about that.
"When something like this happens, you realise how frail and fickle life is. You realise you need to spend more time with loved ones because you never know what will happen tomorrow. Movies will come and go. I've lost a brother," he says.
Showering praise on Srihari's acting abilities, Prabhudheva says, "He was very versatile. He was accepted in both negative and positive roles. He played Pran
saab
's role in the Telugu version of the recent
Zanjeer
remake. In fact, he had stopped doing negative roles. Because of his love and affection for me, he agreed to play the villain in
R... Rajkumar.
We were in Bangkok together for a schedule. He was fine. Now he's gone!"