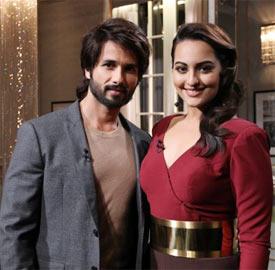 Karan Johar's celebrity chat show Koffee With Karan seems to be raking up a lot of controversy.

The latest episode featured Shahid Kapur and Sonakshi Sinha, both of whom are known to be fiercely correct in their public proclamations.

But their humour on the show didn't go down well with their colleagues in the industry.

Sonakshi's comment in the rapid fire round that one is likely to find a 'cat' in Ranbir Kapoor's bedroom has not been well received by his girlfriend Katrina Kaif.

But worse was Sonakshi and Shahid's collaborative take-off on Prabhu Dheva's
accent and his style of directing actors.
According to them, Prabhu Dheva briefs his characters before a scene by just saying, 'Do', leaving the actors to their own devices thereafter.
Not known to react to catty comments, Pravhu Dheva says, "They must have said it as a joke because it is not true. I don't tell my actors to just 'do' scenes. I instruct them very, very carefully about what they have to do."
After a pause, Prabhu adds, "Actually, actors become different people when the camera is switched on. They have to sound smart and funny. This is why I never go on any talk show. I don't even open my mouth at awards functions."
Prabhu Dheva has directed Shahid in
R...Rajkumar
and Sonakshi in
Rowdy Rathore
.