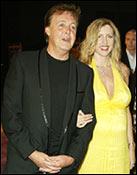 Sir Paul McCartney and Heather Mills are the proud parents of a baby girl, whom they have named Beatrice.
The couple have issued a statement which says, 'Heather and Paul McCartney are delighted to announce the birth of their baby daughter Beatrice Milly McCartney who was born in London on 28 October at 8.45 pm by Caesarean section.
'The baby who arrived three weeks early weighed in at a healthy 7lbs and both she and mum are doing well.
'Paul and Heather are ecstatic with the news.
'They said, 'She is a little beauty and we couldn't be prouder'.
'She is named after Heather's mother Beatrice and Paul's auntie Milly.
"They added, 'Our immediate family were told the news right away and are all as overjoyed as we are at the early arrival of our little bundle of joy'."
Mills gave birth to Beatrice through a Caesarean section at London's St John and St Elizabeth hospital.  
Claire Hornick, director of operations at the hospital, told the website ic NorthernIreland that Sir Paul had been at the birth and that everything 'went extremely smoothly.' Hornick, who said she had seen Beatrice herself, added, 'She is beautiful. They are just all together as a family now. Sir Paul has been with her throughout.'
Mills, who lost her leg in an accident, had feared she would not be able to have a child because she is said to have suffered two ectopic pregnancies and cancer of the uterus before she met Sir Paul. The former model was earlier married to computer sales director Alfie Kamal; they split in 1989.
'The chances of me getting pregnant are about that much,' Mills had said in a television interview to Michael Parkinson earlier this year, holding her thumb and forefinger an inch apart.
It was an emotional moment for the couple when they found she had conceived. 'I showed him the test and he just went 'Oh', and we both started crying and it was just a miracle,' she told chat show host Larry King some months ago.
Beatrice is Sir Paul's fourth child. He has three children, Mary, 33, fashion designer Stella, 31, and James, 25, with his first wife Linda, who died in 1998. He also has a stepdaughter, Heather, from Linda's first marriage.
There has been much speculation about a rift between the McCartneys and Sir Paul's children, especially Stella. A renowned fashion designer, Stella is understood to have been upset that Mills was recently announced the face for People for the Ethnic Treatment of Animals. Linda McCartney was a champion of this charity. Following her demise, Stella continued her work.
Sir Paul and Heather, who also campaigns actively against the use of landmines, were married in June last year.
Click here for More Features