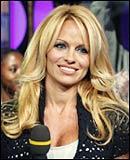 Pamela Anderson, 36, star of television shows Baywatch and VIP, says hepatitis C will kill her in a decade.
'I think I've got a good 10 years left in me, which is sad. Maybe 15, if I'm lucky,' Anderson, who was diagnosed with the disease in 2001, tells US Weekly magazine, which will publish the story in its November 3 issue.
'It's scary, but lately I've been feeling great. For some reason, my liver keeps getting healthier.'
Hepatitis C causes inflammation of the liver, which can lead to cirrhosis, liver cancer and liver failure.
Anderson isn't taking Interferon, the injectable drug hepatitis patients often use. Her homeopathic doctor, Wendy Hewland, tells the magazine she 'made a single remedy specifically for Pam.'
The actress also says she's no longer planning to marry singer Kid Rock, to whom she got engaged in April 2002.
| | |
| --- | --- |
| | More on Rediff! |
| | |
'We're not engaged anymore. Our relationship is not really something you put a label on,' she says. 'He wanted to buy me a house in Malibu, California, [
in August
] but the thing is I really just need to be with my kids and work on their relationship with their father [
Motley Crue drummer Tommy Lee
]."
Anderson and Lee got married in 1995 and divorced three years later.
'There's definitely a lot of love and history between Tommy and me, that's for sure. It doesn't matter whether we're together or not. We're crazy about each other -- always have been, always will be,' Anderson says.
'I'm just happy that my kids [Dylan and Brandon] are having a healthier, better relationship with their dad.'

Photo: Getty Images
Click here for More Features