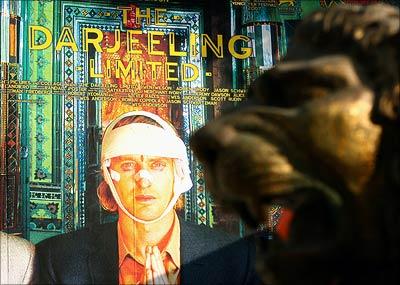 Owen Wilson, a close friend of director Wes Anderson since their college years in Austin, Texas -- where they befriended the occasional actor and yoga teacher Kumar Pallana -- won't be doing the publicity for The Darjeeling Limited.
Wilson was hospitalised last month after an alleged suicide attempt at his Santa Monica home.
He spent over a month in India early this year for the Anderson-directed story of a recently deceased father and his three sons.
Wilson shared the title role in Wedding Crashers with Vince Vaughn last year, and the film grossed an impressive $285 million across the world.
Through his publicist Ina Treciokas the actor has sought that he be left alone so he can 'receive care and heal... during this difficult time.'
Wilson, who stars with Adrien Brody and Jason Schwartzman in Darjeeling Limited, shot mostly in India, plays a distraught man, bandaged throughout the film. Other characters in the film -- about three brothers, whose lives become even more complicated during a journey in India -- imply he has attempted suicide.
Though The Darjeeling Limited has Brody and Schwartzman, Wilson was clearly going to be a bigger draw.
Industry analyst Paul Dergarabedian of Media By Numbers told reporters recently that Wilson's personal problems could make marketting of his upcoming movies more difficult.
'Certainly it presents a challenge if you have a film toplined by a star who's having a troubled situation. It would give most marketting executives pause,' he said. But, he also added, 'Everyone's trying to be sensitive to what he's going through.'
On the other hand, some industry observers believe that The Darjeeling Limited is a beautiful film that will roll on its own steam, and Wilson's action cannot derail it.

Photograph: Getty Images