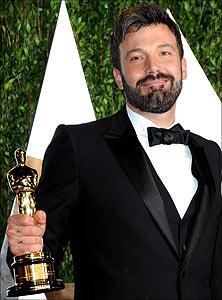 Sometimes, when we're lucky, what matters is what matters.
The 85th Annual Academy Awards was a boring, poorly written show, with a disastrously bad host who kept drowning weak punchlines in self-satisfied giggles.
It was an underwhelming show on many, many levels. And decidedly not worth waking up for.
The very best films weren't even nominated and it now appears that, this time, the spectacle itself hadn't been put together with too much thought. And having said all that, it appears that the show worked anyway; that all is forgiven because of the way things ended. Is that true?
Well, yes and no. All is decidedly not forgiven, and we aren't likely to smile broadly at host Seth Macfarlane anytime soon. The thing, however, is that while the awards were a nondescript pile of hooey, there was something bigger afoot this year.
The story.
Because The Tale Of Ben Affleck -- who went from young Oscar-winner to ridiculously unimpressive leading man to respected filmmaker -- the story of the punchline who became the paragon, is as inspirational as it gets.
Add to that the final twist of Affleck not getting a Best Director nomination, yet going on to win the biggest prize regardless, that of Best Picture.
It seems overwritten, as stories go, but Affleck's sincerity is overwhelming, and he deserves our support just like very memorable protagonists often do. And when we'll walk past and look back at this year's Oscars, that's what we'll remember.
Which is why I'm not blue in the face with outrage, this year. It isn't worth getting in the way of the Affleck story (Hint: when even Steven Spielberg is made to move over, try not to linger),
We'll also remember a show that promised to pay grand tribute to the greatest movie franchise of them all. The Oscars singled out 50 years of James Bond in the movies with: 1) a former Bondgirl (Halle Berry) dressed like a bottle of shiny shampoo; 2) an alarmingly average montage of 007 movie clips; and 3) Dame Shirley Bassey belting the hell out of the Goldfinger theme, Connery bless her.
And while the last mentioned was worth it, it seemed most inadequate. Heck, the Academy gave more of a tribute to Chicago for, um, having a 10-year-old Oscar trophy? It was all pretty odd.
Yet as I looked over my Twitter timeline this year -- a timeline naturally, inevitably brimming with snark and sniping -- I realised this year's Oscars weren't divisive, weren't making us argue about winners or losers or presenters or quality. Instead they were making us agree. Agree, in fact, on everything.
We were all stunned that Ang Lee won Best Director for Life Of Pi; but then we loved his Namaste-filled speech.
We all wanted the Adele win, but were outraged that Bombay Jayashree didn't get to perform. Like a highly choreographed unit, we rolled our eyes in unison at Seth Macfarlane's unfunny gags, and started thinking up jokes based on cinematographer Claudio Miranda's candyflossy hair.
We smiled at Daniel Day-Lewis, we tut-tutted Bob Downey Jr, and we fell more in love with Jennifer Lawrence.
But we did it all together, without arguing or debating.
When was the last time the Oscars brought us all this close?
Image: Pascal Le Segretain/Getty Images