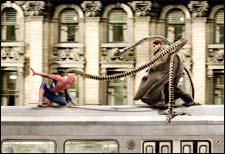 Films nominated for the Oscars revolve around great visual moments like eight-limbed madmen hurling taxis and trains around like popcorn, aircrafts racing perilously, and vividly authentic boxing matches. However, the people behind the scenes, the ones braving the blows, making the leaps, tossing themselves out of cars -- aren't recognised by the Academy of Motion Picture Arts and Sciences. And they are angry.
Glaring firmly at the Academy Awards, an alliance of four stunt organisations is strongly petitioning the Academy to create a new Oscar category, that of best stunt coordinator.
Computer effects increasingly take the attention away from the crucial role of stuntmen in Hollywood. The recognition, stunt groups feel, is long overdue for their gruelling and demanding efforts.
'Stunt performers are the only faction of the movie industry that must literally risk their lives for the sake of their art,' the groups say in a joint statement to be released next week. 'The talent and expertise required of a stunt coordinator to be both creative and safe is enormous and highly deserving of Academy recognition.'
The four groups are the main stunt organisations in Hollywood -- Stunts Unlimited, Brand X, the Stuntmen's Association of Motion Pictures and the International Stunt Association. Jane Austin of the Stuntwomen's Association of Motion Pictures, said her group supported the effort, but that stunt coordinators were almost exclusively men.
The last new category to make it to the ceremony was that of Best Animated Feature, added in 2002. The inclusion was an obvious decision, seeing that animated films are now the industry's most reliable money-spinners. Pixar is the most consistent box-office performer in America, and Shrek 2 churned the most millions last year.
However, the road to the Oscars is a long-winded and painful one, and often only possible after great industry support and financial lobbying. The Academy might be hard to persuade that this group of neglected professionals will be worth the extra envelope. And this despite backing from directors Steven Spielberg and Martin Scorsese, and actors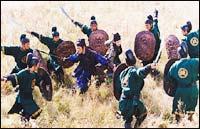 Robert De Niro, Dustin Hoffman and Robin Williams, who signed a petition in support of the Oscar category in the early 1990s.
Still, like The New York Times quoted John Pavlik, a spokesman for the Academy as saying, 'it takes a long time. Stunt groups have asked for categories in the past. The board of governors has looked at it in the past, and is reluctant to add categories.'
Pavlik said the board would look at the request again, though not until after this year's Oscar ceremony on February 27.