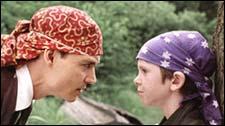 From the tumultuous life of a world conqueror to the seemingly kinky life of America's pioneering sex researcher, screen tales of historical figures will dominate the fight for the Oscar nominations this year.

The Oscar buzz for screen bios that started at the recent Toronto International Film Festival, which draws hundreds of Oscar voters each year, will continue in the next three months.

The buzz will gain further momentum with the arrival of such eagerly awaited films like Finding Neverland starring Johnny Depp as playwright J M Barrie, the creator of Peter Pan; The Aviator with Leonardo DiCaprio as reclusive billionaire Howard Hughes and Alexander starring Colin Farrell.

There are also non-biopic films including I Heart Huckabees, Vera Drake and Sideways that were well-appreciated, though some critics doubted their box office appeal.
Their distributors will surely make a big push for award nominations but biopics will be watched more carefully in the coming days for their Oscar battles.
The ensemble, absurd comedy I Heart Huckabees is about a married couple, the Jaffes (Dustin Hoffman, Lily Tomlin), who work as detectives, helping people solve their lives' crises. Their first client Albert, a poet and environmentalist, is experiencing emotional problems that have a lot to do with Huckabees, a chain of retail stores. When the Jaffes also take on Brad Stand (Jude Law) as a client the situation becomes worse because Brad is the key cause for Albert's frustrations. The movie is slated to open October 1.

The top award winner at the Venice film festival
Vera Drake
, which opens on October 10, is a portrait of a selfless woman, dedicated to her working class family. But secretly, Vera (Imelda Staunton who also won an award at Venice) helps women end unwanted pregnancies. Her illegal acts cause a controversy in the 1950s England, deeply affecting her personally and her family, friends and well wishers. The film was directed by Mike Leigh, who hasn't had an art-house hit for a while.
Alexander Payne (who made
About Schimdt
, a medium range hit two years ago) now offers
Sideways
, slated for an October release. The movie revolves around a divorced middle school teacher and failed novelist (Paul Giamatti) who takes his altar-bound pal (Thomas Haden Church) on a wine-tasting trip in California before the younger man ends his bachelor days. Their friendship and values are tested during their seemingly harmless little adventure.
Other films that made a strong impression at Toronto generating Oscar buzz is the electrifying love triangle,
The House Of Flying Daggers
, directed by Zhang Yimou.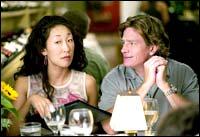 Then, there was the story of a woman standing up to female circumcision Moolade from director Ousamane Sembene. Sembene's movie opens on October 15 and the Zhang Yimou film in December.

The Motorcycle Diaries, chronicling the road adventures of the future revolutionary Che Guevara, has already started its American journey with a hearty welcome in New York and Los Angeles. Distributor Focus will give it a hefty push to secure a handful of Golden Globe and Oscar nominations.

Also from abroad, The Sea Within, will be keenly watched by Golden Globe and Oscar voters. The Spanish film, based on a true story of a quadriplegic man in his 40s fighting for the right to end his life, is a gripping tale with tasteful melodramatic touch. It won a jury award and best actor prize for Javier Bardem at Venice. The film directed by Alejandro Amenabar, best known in America for the supernatural thriller, The Others, is bound to make waves in America.

With Jamie Foxx (Collateral) in the title role, Ray, is the story of a struggle of America's beloved singer and musician with his inner demons. The film focuses on those years in the life of the blind soul singer Ray Charles when he was being destroyed by his infidelities and drug abuse. In the final analysis it is an upbeat film, though is also over long and conventional. The mind-blowing performance by Foxx created enormous buzz for the film at Toronto.

His competitors from the movies shown so far include The Sea Within, Gael Garcia Bernal as the young Che (The Motorcycle Diaries) and Liam Neeson.

Neeson, who plays the controversial sex searcher Albert Kinsey in the film, is sure to rile the conservatives. Kinsey was written and directed by Bill Condon the creator of the art-house hit Gods And Monsters and the award-winning screenplay writer of the musical Chicago. At Toronto, Kinsey created a stronger Oscar buzz than Ray.

While Toronto offered many high profile performances by male actors, there were just a few films including Being Julia that drew attention to its female stars. Though many critics found the film unexceptional and many in the audiences thought it was a yawn, veteran Annette Benning stood out as an aging actress who plots to get back at her former lover and the young actress who stole her love.

Laura Linney too registered with her strong performances in PS, and Kinsey. The former is slated for an October release to be followed by Kinsey a few weeks later in November.

Years after her high school boyfriend's death, admission officer Louise Harrington (Linney) in PS is intrigued when she comes across the graduate school application of Scott Feinstadt who strongly resembles the dead lover. The intrigue -- and complications -- mount when she openly welcomes the chance to love again.

In Kinsey, she plays the student of the sex researcher, who becomes his lifelong companion. But their relationship is often tested by controversies, their temperaments and politics.

The early buzz for the above films, of course, could diminish or vanish completely when the December hopefuls -- among them Gurinder Chadha's Bride And Prejudice -- start rolling out. Many of the above films, especially Bride And Prejudice, stand a better chance being nominated for the less prestigious but very visible Golden Globes given out by Hollywood Foreign Press. The Globes have two divisions -- drama and comedy/musical and that means far more movies get the nominations than at the Oscars.