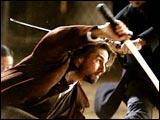 In a year filled with less than stellar performance of many eagerly awaited movies such as The Last Samurai, the Oscar nomination hopes for Return Of The King look very bright right now.
The buzz from the critics who saw the final episode of The Lord Of The Rings in New Zealand last week is so strong that some of them believe that the film could win the top crown.

But this much seems possible now. The third instalment in the sci-fi adventure series Return Of The King could earn more nominations than the much-touted Mystic River. The Peter Jackson film is sure to get nominated in every technical department, including costumes.
What then are the chances of another spectacular film being nominated? Could it be that
The Last Samurai
still finds a place despite mediocre reviews? Some early pollsters believe if the film, which opened to weak numbers, gets a stronger box-office response in the coming two weeks, it might.
Otherwise, it may get a few technical nominations plus one for Tom Cruise in the acting category. He also served as one of the executive producers on the film.

The influential trade publication Variety says, 'This year, more than ever, it's anyone's guess.'

If that happens, Master And Commander, which received better accolade than Samurai, could gain, though it is struggling at the box-office. The film has grossed a decent $72 million, but looks like it is running out of wind. Its box-office performance is a big disappointment because of its $130-$150 million budget.
Partnered by three studios -- 20th Century Fox, Universal and Miramax -- the sea saga is not sailing smooth abroad either. Though the film celebrates the fortitude and ingenuity of the British Navy, it is dwarfed by films such as Elf, and is headed for a $12 million gross, which to say the least is mediocre.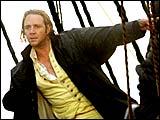 It would not surprise me if many voters go for the more rousing and more successful Seabiscuit. But it is handicapped by the fact that it came many months ago.

No year in recent times has gone by without a smaller film, mostly from Miramax, showing on the top list. Miramax is pushing, in fact, three films. One, a big budget Civil War saga Cold Mountain that is carrying excellent reports (at least for now), and then there is the low budget British film, a love story and thriller called Dirty Pretty Things.
A modest box-office success in America, the Stephen Frears film has received mostly positive reviews. And then there is Quentin Tarantino's Kill Bill Volume I, an extra violent but exquisitely made drama, which has grossed a strong $150 million worldwide and is still climbing.

Another Miramax film Human Stain, based on a widely acclaimed and controversial novel by Philip Roth, seemed a safe bet for major nominations. But the film which received mixed reviews, has done miserably at the box-office. Forget about nominations for Anthony Hopkins and Nicole Kidman.

Kidman at least stands a good chance for her work in Cold Mountain that might also fetch a nomination for Jude Law. The movie is directed by Anthony Minghella, whose English Patient for Miramax was both a huge critical and Oscar success, apart from earning $250 million worldwide.

Let us say that Cold Mountain joins Seabiscuit, Master And Commander and Mystic River. What would be the last film for the top nomination then?

The race would be among the smaller films, I guess. Here, the situation becomes tight.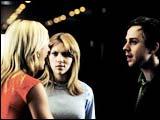 Could it be the lean, light and enigmatic arthouse Lost In Translation, Sofia Coppola's $5 million film that grossed an impressive $30 million in North America? Or the searing, mysterious, yet gripping, study of guilt, redemption and reconciliation, 21 Grams? Or the Irish import In America, a level-headed, gracious and joyous celebration of newly arrived immigrants' life in New York? Or the eccentric American Splendor?

A film could fail to win the Best Movie nomination but could be nominated in other categories. Peter Weir, for example, could be nominated in the Best Director category, even if his film is not nominated for the Best Picture kudos.

The race for acting nominations becomes even tighter amidst persistent buzz that Sean Penn would be nominated for 21 Grams in addition to Mystic River.

Bill Murray, best known for comedy, is also a likely nominee for Best Actor in his role as a has-been movie star making a commercial in Tokyo in Lost In Translation. Some nominators might want to celebrate his guts in taking up a very small film and giving his full heart to it.

There could be a surprise or two. Some voters must seriously be considering Johnny Depp for his larger than life portrayal in Pirates Of The Caribbean, the second highest grossing film of the year, following Finding Nemo.

And let us not forget Paul Giamatti, who might emerge as a dark horse, for his memorable performance as a real-life comics writer Harvey Pekar in American Splendor.

Naomi Watts, who was in half a dozen films last year, including Le Divorce, deserves to grab a nomination for her work in the psychological thriller 21 Grams.

As the trade publication Variety says it is anybody's guess who else will get nominated. Especially in the smaller, arthouse successes: Gwyneth Paltrow as the tragic poet Sylvia Plath in Sylvia was another possibility. Others include Charlotte Rampling for Swimming Pool, Helen Mirren for Calendar Girls and Diane Keaton for the mainstream comedy Something's Gotta Give, in which she stars with Jack Nicholson and Keanu Reeves.

Early, there was talk about Cate Blanchett fetching a nomination for playing the murdered crusading Irish journalist in Veronica Guerin. But that film was an awful bomb.
Click here for More Features