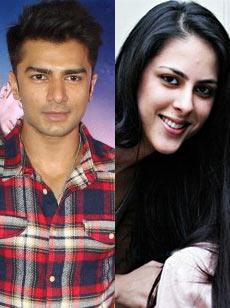 It's official. Kamal Amrohi's grandson Bilal Amrohi, who will make his acting debut in this Friday's release O Teri, and Kumar Gaurav's daughter Saachi are set to tie the knot next year.

Bilal has already bought their marital home.

Divulging the details, Bilal's doting father Tajdar Amrohi says, "Yes, Bilal has bought his home where he will live with Saachi after they get married. After marriage, it's important for a couple to have an independent life. But Bilal and Saachi will remain very close to us. In fact, Saachi has been close to my family for many years. Her father's bungalow is very close to our home."

Tajdar showers praise on his future daughter-in-law.

"She is one of the most beautiful girls in the industry, prettier than most of the heroines. She could have easily been one of the top heroines of our cinema but Saachi has
chosen to be away from showbiz," he says.
Since Saachi is so media-shy, didn't she react adversely to Bilal's public declaration of their relationship?
Bilal's father rises to his defense. "Not at all," he says. "In fact, I am very proud of Bilal for introducing his life-companion to the public before entering the entertainment industry. In our family, we do not hide our women. We are very proud of Bilal's choice, and are looking forward to their marriage."
Tajdar sees it as a coming-together of two distinguished families.
"Saachi is Sanjay Dutt's sister's daughter and Rajendra Kumar's daughter-in-law. Sanjay Dutt's parents Sunil Dutt and Nargis, and Rajendra Kumar acted together in one of India's most beloved films
Mother India
. My son Bilal's grandfather Kamal Amrohi made
Pakeezah
. So this marriage is a merger of two distinguished families. We are looking forward to an early wedding, and I am looking forward to grandchildren," he says.