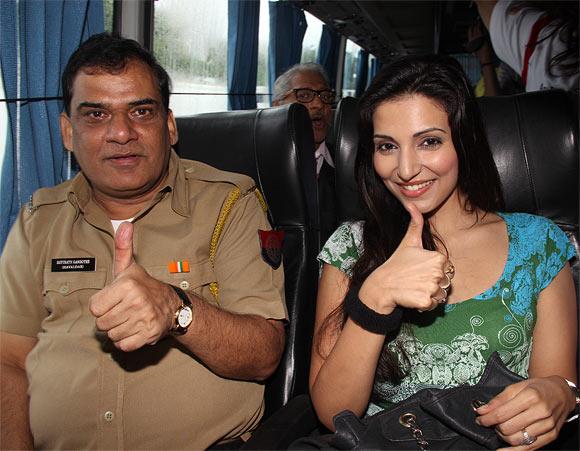 Yes, you read that right.

You can meet and spend time with your favourite television stars over the weekend.

SAB TV has introduced Sab Ki Sawaari, in association with Bollywood Tourism.

A bus tour will take fans to Film City, in Goregaon, a western suburb of Mumbai, and they can watch the actors of SAB TV's popular shows like Chidiya Ghar, Baalveer, Lapataganj and FIR.

Fans can communicate with the stars, click pictures with them, and watch the shoot live.

Television actress Sucheta Khanna, who stars in Lapataganj, says, "Fans keep asking us how they can connect with us. It's a wonderful initiative taken by the channel through which fans can come and experience whatever they have been watching on their TV sets."

Actress Debina Bonnerjee, who stars in Chidiya Ghar says, "Fans have to face many problems if they wish to meet us but now, it will become easy for them."

The tour, which will last about six hours, will be available only on weekends for now. The tickets are priced at Rs 2,250 per person, and will include pick-up and drop, and snacks on the sets. A guide will be present to help people with questions and show them video clips.

"We plan to tie up with schools later, as children are especially fond of the shows," says Manoj Gursahani, Managing Director of Bollywood Tourism. "People from outside Mumbai may also find it interesting, and we will invite them for the tour."
In the picture: Gopi Bhalla of FIR fame and Naveena Bole of Jeanie Aur Juju fame inside the Sab Ki Sawaari bus