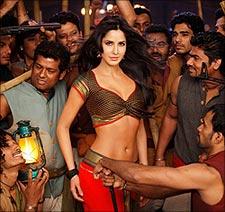 If you watch Katrina Kaif's [ Images ] item song Chikni Chameli [ Images ] in Agneepath, you will see a statutory warning scrolling at the bottom of the screen every time she sings, 'Beedi chillum jalaane ayee,' claiming cigarette smoking is injurious to health.

But there is no reason for the film industry to go into panic mode.

As Pankaja Thakur, CEO of the Censor Board Of Film Certification (CBFC), says it doesn't mean every sequence showing a character smoking would be required to run a warning scroll.

"Not at all!" exclaims Thakur emphatically. "The intention of the scroll is being misinterepreted by a section of the film imdustry. An actor smoking on screen is a different matter from an actress saying, Beedi chillum jalaane aayee. We did ask for the scroll in Agneepath. As per the cinematograph act, glamorisation of smoking is not to be allowed on screen. We in the Censor Board thought nothing can make smoking more alluring than Katrina Kaif offering to light the crowd's beedis and chillums."

Pankaja Thakur is all praise for Agneepath producer Karan Johar [ Images ] for accommodating the Censor Board's decision into the item song. "He was gracious enough to agree to insert the scroll," he says. "The scroll shows the CBFC's and the film industry's commitment to ensuring that smoking is not made to look glamorous on screen.
"As long as an actor doesn't urge the world to join in the beedi-chillum smoke, the scroll in Agneepath would remain a one-off thing. Glamorisation of smoking is to be discouraged as per the guidelines of the Cinematograph Act," he adds.
Industry spokesperson and filmmaker Mahesh Bhatt [ Images ] adds, "This (the scroll for the Agneepath song) is a stand-alone case. The industry need not go into a panic mode. The CBFC has acted with great sagacity. If there is no editorial justification for the images of characters smoking on screen, the Censor Board is within its rights to ask filmmakers to do what it did in Agneepath. We have to act responsibly towards the nation."