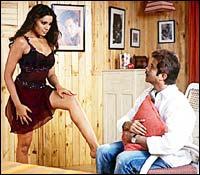 Anees Bazmee's comedy No Entry -- starring Anil Kapoor, Salman Khan, Fardeen Khan, Bipasha Basu and Lara Dutta -- may have tickled the Indian audience's funny bone, but it had a harder time in the United States and Britain.
The film earned just about $312,000 over the weekend on 48 screens in the US, opening at number 26 on the chart. It did not make it to Britain's top 10 list, which was led by Jay Chandrasekhar's The Dukes of Hazzard. While Dukes grossed $3.2 million, No Entry reportedly grossed $220,000 in Britain.

The lucrative overseas market, which often helps big budget Hindi films recoup investment, continues to be in the dumps for several weeks now.

The final success or failure of any film depends on the hit it takes in the second and third weeks. Most desi films come down by about 50 percent in the second week. Only a few, like Sanjay Leela Bhansali's Black, fall by 20-25 percent in the subsequent weeks, earning the sobriquet of sleeper hits.  

It may be tough for No Entry to match the estimated $750,000 gross of the Salman Khan starrer Maine Pyar Kyun Kiya in America and $950,000 in the United Kingdom. Given that the new film has a far bigger cast than MPKK, it was expected to gross at least $500,000 in the US, several exhibitors said.

Meanwhile, Mangal Pandey: The Rising continued to plummet on both sides of the Atlantic. After plunging by about 65 percent in the second week, it slid by about 70 percent in the third week, earning a meagre $53,000 on 40 screens in North America. It fell from 31st position to the 50th on the weekly chart. Its three-week was $874,000 and the film, distributed by Yash Raj Films, has no chance to crawling to $1 million. In the United Kingdom, the film has earned a mediocre (for a big budget venture) $850,000.

Many viewers complain that despite a strong performance by Aamir Khan and awesome visuals, The Rising did not fully satisfy them emotionally. Some fans said the film looked like a documentary. "Had it showed the Englishman joining the Indian rebellion, it would have made a much stronger impact," said a young man.
Apart from MPKK, recent Bollywood films that have done good business abroad are Bunty Aur Babli (about $2 million in UK and US) Parineeta (about $1.6 million on both sides of the Atlantic) and Paheli (about $2.5 million in UK and US).
Meanwhile, desi producers are hoping for a big hit in Salaam Namaste, starring Saif Ali Khan and Preity Zinta.