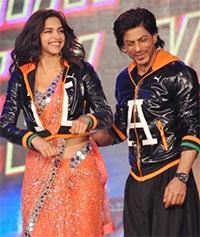 For those expecting a full-blown Chennai Express styled romance between Shah Rukh Khan and Deepika Padukone in Farah Khan's Happy New Year, here's some surprising news.
Deepika does not have a full-fledged romantic track with SRK in the film.
Says a source close to the project, "Deepika is like one of the boys in the film. She plays a bar dancer, who is called by Shah Rukh to teach his team of robbers how to dance in a global dance competition. The mutual attraction between SRK and Deepika is hinted at very gently. There is no attempt to cash in on the Chennai Express chemistry between the pair."
More than romance, Deepika is the comic element.
"She feels she's an artiste and therefore superior to the male actors, whom she has been called to teach how to dance," says the source.
According to sources, this was Shah Rukh Khan's idea.
"He wanted Farah to focus on the caper, and tone down the romantic element with Deepika," says the source.
Photograph: Abhijit Mhamunkar