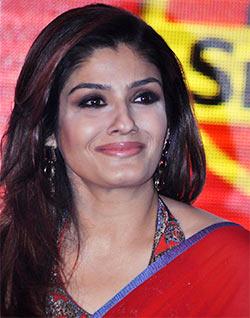 Raveena Tandon has refused to do kissing and intimate scenes in Onir's Shabb.
The film had been offered to Sangeeta Bijlani first, but Bijlani not comfortable with the film's intimate scenes and backed out.
Shabb was passed on to Raveena.
Now, Raveena has laid down her conditions, and Onir has agreed to modify the script!
Onir had not been willing to make any changes earlier when Bijlani had a problem but he seems quite keen on pleasing 'dear friend' Raveena, with whom he had his first opportunity to work while assisting Kalpana Lajmi in Daman.
"Daman not only gave me a very dear friend in Raveena but also my best friend Sanjay Suri," says Onir.
Suri has starred in Onir's My Brother... Nikhil, Bas Ek Pal and I Am. He returns to do a cameo in Shabb as Raveena's husband.
About the changes required by Raveena, Onir says, "I want Raveena for the role. I will modify the screenplay in the way suited to her. She is away right now. When she returns, I will discuss the changes with her and make modifications."
Onir says he wrote the role for Raveena 12 years ago. "I'm glad she's finally part of Shabb. She was my inspiration for writing the film."
Raveena says doing intimate scenes has never been her scene. "I didn't do them when I was single and doing romantic leads, why would I do anything compromising now?" Raveena asks. "To me, looking glamorous on screen has never been about skin show. I did Tu cheez badi hai mast mast without wearing revealing clothes or indulging in suggestive movements. I also believe that intimacy can be shown on screen in many ways other than physical contact."