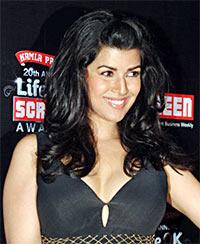 After Ritesh Batra's The Lunchbox made her an international phenomenon, Nimrat Kaur has landed a part in popular American show, Homeland.
"It just happened... I didn't plan it this way," says Nimrat speaking from Cape Town, where she has already started shooting for the fourth season of the show. "I auditioned for Homeland and then moved on. There was no plan to sit and wait for another potentially global project to fall into my lap."
She stoutly denies getting Homeland because of The Lunchbox. "Things don't work that way over here. I had to audition for the part and was chosen on the basis of the audition, not because they liked my work in The Lunchbox," she says.
Nimrat admits it was a long wait.
"The Lunchbox released a year ago. I shot for it two years ago. So basically, I did my last film two years back. It was a long wait, yes," she says.
The actress, who stole hearts with her heartrending performance as a lonely suburban wife in The Lunchbox, says she rejected numerous offers to play lonely housewives and other desultory divas that came her way after The Lunchbox. "I must have said no to nearly 450 scripts in two years. It wasn't as if I was being fussy but nothing seemed right for me."
The part of a Pakistani ISI agent in Homeland did it for Nimrat. There is little she had to do to prepare for the part. "We are not given a chance to rehearse. No homework works because the scenes and lines are given when we reach the location."
Nimrat finds this method of working quite distracting. "We did repeated sessions of rehearsals for The Lunchbox. I kept working on my character and her lines until they became a part of me. While shooting for Homeland, it's been a roller coaster ride. One never knows what lies in store," she says.
The actress says she is having the time of her life in Cape Town. "It is exciting, a completely different experience from The Lunchbox. I am in this for at least seven episodes. It was meant to be less earlier and my role has been increased. Who knows, my role may be increased even further."