Far removed from the hype and glitz of Cannes, or the sheer numbers (about 250 films in 10 days) and the affability of Toronto International Film Festival, the New York Film Festival offers just one thing: sheer movie magic.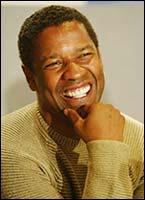 You won't find a Meg Ryan discussing her nude scenes in Jane Campion's In The Cut here or Denzel Washington extolling how much he loved working in the cop drama Out of Time, or Omar Sharif quietly walking around the venue, a little amused that people still remember him for Lawrence of Arabia even though he did many terrible films in the last two decades. All that happened at the Toronto festival.
There would be couple of stars at the New York Film Festival -- that is, if you still think 73-year-old Clint Eastwood is a star. Eastwood, who unveils his newest film, Mystic River, says he loves the New York Film Festival because it draws serious moviegoers in a city that has always been in love with cinema. Though Eastwood hasn't acted in the film, the buzz has it that Mystic River more than makes up for some of his recent work as director.
| | |
| --- | --- |
| | More on Rediff! |
| | |
Often described as a boutique film festival, the 41st edition of NYFF, organised by the Film Society of Lincoln Centre, showcases interesting films from across the world, including some films that have won high accolades at the Cannes, Venice, Berlin and Toronto film festivals. Take, for example, Gus Van Sant's minimalist, yet utterly compelling Elephant, which is far different from his worldwide box office hit, Good Will Hunting. 

The festival runs from October 3-19 and the screenings will be held at the Lincoln Centre theatres.

If you truly dig world cinema, you would do well to catch some of the more 'obscure' films like Mansions By The Lake, the latest from 84-year-old Sri Lankan director Lester James Peries. These kind of films may not find a distributor.

The following is a list of interesting films that have also found distributors. Chances are they will be out in a few days after you have seen them at NYFF. But you may want to see them first and make up your own mind, before the hype machines or the distracters begin offering their own views.

Elephant

Working with a cast of students (who also collaborated on the script) and making excellent use of an abandoned school in Portland, Oregon, Gus Van Sant has created a mysterious and yet moving picture of the loss of innocence and the indulgence in violence by teens. You know the Columbine murders inspires it, yet it is far removed from the gut-churning and riveting Michael Moore documentary, Bowling at Columbine, which not only won a raft of awards including the Oscar but also grossed about $100 million in movie houses and DVD and video sale.

In Van Sant's cinematically dazzling and lyrical (especially in the editing and photography divisions) film, there is hardly a story; we are supposed to interpret things for ourselves. We never get to know the motives for the mass killing either.

"I wanted to make a film where it gets the imagination of the viewer working," Van Sant says. Winner of the Palme d'Or at Cannes this year, Elephant, an HBO/Fine Line Features Release, was also a festival favourite in Toronto. It is perhaps the riskiest and most haunting film Van Sant has made in his two-decade-long career.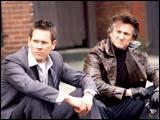 Mystic River
The opening night feature at NYFFis a film based on Dennis Lehane's best-selling novel. Mystic River is more than a crime story. It is about life's come-uppance. Adapted for the screen by Brian Hegeland (LA Confidential), it tells the tale of three childhood friends from working-class Boston neighbourhoods -- Sean Penn, Tim Robbins and Kevin Bacon -- thrown together again as adults. When a tragedy unravels, questions of guilt emerge and their memories go back to their childhood days.
Early birds who caught the film at Cannes say he has extracted superb performances from supporting actresses Laura Linney and Marcia Gay Harden, whose characters are the emotional centre of this complex drama. Clintwood admirers rate the film as high as his Oscar winner Unforgiven and underachiever A Perfect World.  A Warner Bros product, Mystic River will get a wide theatrical release soon.
Dogville
'Troubling,' 'startling' and 'controversial' are some of the words that describe Lars von Trier's autopsy of Americana and the roots of domestic terrorism. At Toronto International Film Festival, many journalists called the film 'harrowing,' but added they would not have liked to miss it.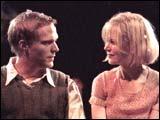 Nicole Kidman plays a mysterious woman who seeks refuge in a hamlet so bleak and uneventful its people yearn to become a mob. She is running away from a group of gangsters, she says. Though the Dogville people give her refuge, risking their own lives, they are also fearful that their community could be torn apart.
The film wants to explode the myth of bucolic American innocence, asserts von Trier, the celebrated Danish filmmaker known for espousing a natural way of filming and emphasising on a bare amount of props. The NYFF press guide says the film 'subverts the complacent self-image of the United States the way de Tocqueville once did its democracy, Upton Sinclair the malevolence of its commerce and John Steinbeck its illusions of community.' Lions Gate will release the 170 minute-long art house film that also features Paul Bettany, Lauren Bacall, Ben Gazzara and James Caan.
21 Grams
This closing night film is for an audience with a tough stomach, was the verdict at TIFF. The title for the new film by director Alejandro González Iñárritu, screenwriter Guillermo Arriaga Jordán and cinematographer Rodrigo Prieto -- who brought the remarkable Amores Perros (Mexico's entry for the Oscars) to NYFF in 2000 -- is the amount of weight a body is supposed to lose at the moment of death. It revolves around three characters struggling emotionally and physically with death. This is the first time the three men have worked on an English language film.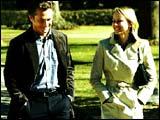 College professor Paul (Sean Penn) waits for a new heart while his marriage is about to disintegrate. Young mother Christina (Naomi Watts) still tries to imagine a future after her life seems to have collapsed. And ex-con Jack (Benicio Del Toro), being 'born again,' is of little help to his family. In an instant, these three lives will become irrevocably intertwined; the film offers a disturbing but rich tapestry of the human condition.
Focus Features, which distributed the current art house hit Lost in Translation, will release 21 Grams across America.
The Barbarian Invasions
A huge hit in French Canada (grossing about $8 million), this is one of those few films that win awards and yet make an impact on significant number of moviegoers. The eccentric, lovable, hateful and merely human characters from Denys Arcand's 1986 hit The Decline of the American Empire are back. They are still argumentative, still petty-minded and still obsessed with sex, but now they are forced to confront other issues.
Rémy (Rémy Girard), the promiscuous academic, is dying, but he has no intention of making a tame exit. Soon, a rowdyish crew of family and friends surrounds him. He quarrels with his businessman son and makes friends with a young junkie who gives him some New Age nonsense about death. There is also Natalie (Marie-Josee Croze), who is the daughter of one of Remy's friends and has both an interesting past and plenty of her own demons.
The funny, ironic and life-affirming film, to be distributed by Miramax, won the best screenplay and actress (Croze) at Festival de Cannes this year.
The New York Film Festival runs from October 3-19. NYFF tickets are on sale at the Alice Tully Hall Box Office (information only: 212-875-5050). Tickets can also be ordered by phone via Centercharge at 212-721-6500 (a $5.50 service charge per ticket applies). For NYFF's complete schedule, check: www.filmlinc.com
Denzel Washington's photo: Getty Images
Click here for More Features