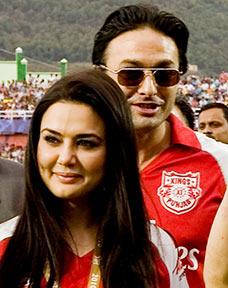 It seems like Preity Zinta is isolated from her colleagues from the film fraternity in her fight with Ness Wadia.
Some of them chose not to comment on the issue, and asked this writer not to mention their names in any related write-ups.
Director Tanuja Chandra, who directed Preity in her Sungharsh, was forthright: "I imagine she must have thought a great deal about it and hasn't done this on an impulse. Like all women in the country, she has every right to approach authorities if she feels her individual space has been violated. We must wait for the legal process to move forward and avoid playing judge ourselves."
The outspoken Pooja Bedi decided to sit on the fence, saying: "Neither Ness nor Preity come across as liars, both are such lovely people. It's very unfortunate that it's turning out the way it is. Having said this, I feel it is for the courts to pass a verdict, not us."
Actress Neetu Chandra feels the matter is personal. But she adds that Preity is not the kind to raise a hue and cry unnecessarily. "As far as I know her, she is a no-nonsense person and leads her life with dignity. A break-up is never pleasant. Both the partners have to be very careful about preserving one another's self-respect in public after the break-up, for the sake of what they shared in the past."
Though she admires Preity's spirit, parliamentarian Moon Moon Sen feels the matter should have been sorted out between them. "Maybe there's a history of abuse and now it has erupted in a public place to embarrass both of them. Surely the two can sit and down and sort it out. No matter how we look at it, it is entirely their business."
In the picture: Preity Zinta and Ness Wadia in better times. Photograph: Ritam Banerjee/ Getty Images