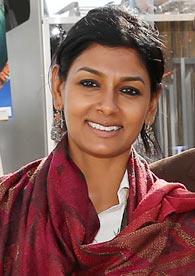 Nandita Das enjoyed her time at the recently-concluded Cannes film festival, where she served as a jury member for short films.

"I am delighted to be back to view some fabulous films and have the opportunity to discuss them with amazing co-jurors," Nandita says. "It is an honour to be called back just eight years after my last time as a juror. This is a smaller jury, in terms of size and responsibility but no less joy!"

Nandita feels short films are given a raw deal. "I have always liked short films and feel sad that we don't have many platforms where we can see them in India. The standard of films and performances has been really high in the Cinefondation section."

She is savouring her time-out with the distinguished co-jurors. "I am so fortunate to be in a wonderful jury yet again. I am throughly enjoying our interactions. (New Zealand-based) Jane Campion is a wonderful filmmaker and person. I enjoyed talking to the others as well -- Ethiopian director and producer Maji-da Abdi, Italian actress Nicoletta Braschi, and Turkish director Semih Kaplanoglu."

Nandita found the jury work tough and challenging. "In Cinefondation, out of 1,550 films from 227 film schools, 18 have been chosen for us. We have to select the top three. In the short film section, out of 3,500 films nine have been selected for us to see. We have to select the best one for the Palme D'or."

The two men in Nandita's life are with her in Cannes.
"My son Vihaan and husband Subodh are also having a good time," she concludes.