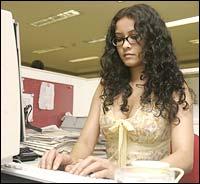 The sultry Nandana Sen made people notice her in Sanjay Leela Bhansali's Black, in which she played Rani Mukerji's sister.
Her next film, Tango Charlie, sank. And now, the actress is back with another release -- Ram Gopal Varma's Factory product My Wife's Murder.
The day before the film's release, Nandana came over to the rediff.com office and chatted with her fans. And people just could not get enough of her.
For those who missed the chat, here's the transcript:
Nandana Sen : Hi, this is Nandana. how are you guys?
---
waseem : How do U relate Salman to his current image? is he easy to work with?
Nandana Sen : he is very warm, and has impeccable comic timing! fun to work with.
---
sourav : how was it for u to step in bollywood from a different family back ground?
Nandana Sen : it was, and continues to be, an adventure
---
sp : whats your next project , nandana
Nandana Sen : it's MY WIFE'S MURDER, releasing tomorro. don't worry, i don't get murdered..
---
vijay : hey nandana what r ur hobbies
Nandana Sen : i'd adddicted to buying books and music, i love watching plays and films from all over the world, and i like to write, cook, eat, dance, and bike.
---
ASH : Nandana, how do you feel about your role in Tango Charli?
Nandana Sen : it was lots of fun playing a bratty bengali girl!
---
suresh : u have very good following in hyderabad as well south
Nandana Sen : well i haven't done any south movies yet, but i must say i love hyderabad. shot two films there.
---
prabodhkumar : are you fine
Nandana Sen : hi, you seem to have a good bengali name!! i'm fine, are you?
---
GuruKul : hi Nandana... u r too sexy.. how do u maintain ur figure
Nandana Sen : thanks much! i drink lots of water, sleep as long as i can and do yoga.
---
pkg : what made you become an actor?why not an economist?
Nandana Sen : hmm.. i wonder what made my dad become an economist, not an actor?
---
kishan : which is a dream role
Nandana Sen : cleopatra
---
Srivid : Hi Nandana,What do you think is the most necessary thing needed to become a good actress ?
Nandana Sen : the ability to be honest about your feelings, and your fears.
---
HEMA : HI NANDANA HOW ARE YOU AND WHEN MARIGOLD MOVIE IS GOING TO REALEASE
Nandana Sen : hi hema, i'm very well thanks, how are YOU? MARIGOLD will release at the end of the year, or early 2006. but before that, i have two other american films coming out..
---
Navin : Hi Nandana, I saw for the first time in Tango Chrlie and you were looking terrific. Looking forward to ur next movies. Keep up the good work. Who is your favourite bollywood actor and why?
Nandana Sen : thanks so much! pls see MY WIFE'S MURDER too and tell me what you think. my all time fave is madhuri dixit.. cos she's beautiful and a fantastic actor.
---
royza : Dear Nandana u r really beautiful, why do u think Bengali girls are so charming?
Nandana Sen : maybe cos we're confident and smart??
---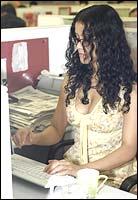 wow : Nandana, I have a script in my mind ...do you have time? oopps - now where is my mind!
Nandana Sen : when you find your mind, if your script still happens to be in it, do get in touch!
---
Chelo : How is it like having a celebrity father? Were you ever interested in economics? Did you pursue it?
Nandana Sen : it's great to have celebrity parents.. i'm proud of them every moment of the day
---
pratyush : hi nandana , where did u born n brought up?
Nandana Sen : i grew up all over the world - mostly in london, calcutta, and boston - but calcutta will always be home for me.
---
NANDAN : I NANDANA, HOW R U, HEY R U BELIVE IN ARRANGE MARRAIGE OR IN LOVE MARRAIGE. I M READY FOR BOTH WHAT U THINK ABT ME, HEY ....ANS ME....
Nandana Sen : hey nandan!! with a name like yours, you can rest assured i'll get in touch if i start looking for a husband.
---
jadugar : hi nandana according to me Perfect luv is not phone calls n stolen kisses.Its the silent smiles in the memory of ur sweetheart ... what u think abt it
Nandana Sen : that's a magical thought, jadugar...
---
dhiman : tumi ki bangla jano?
Nandana Sen : tumi ki abol tabol, ho jo bo ro lo, ba goopy gyne bagha byne jaano?
---
jatin : NANDANA WILL U LIKE TO WORK WITH SUNNY DEOL?
Nandana Sen : sure! are you sunny deol?
---
sri : Hi nandan Plz reply Immediately at Last 15 Minutes no reply at your end
Nandana Sen : what's your question sri
---
DrDude : AM SURE YOU HAVE TRAVELLED ALOT AROUND THE WORLD, WHICH IS YOUR FAVOURITE PLACE?
Nandana Sen : calcutta
---
babli : NANDANA ANSWER MEEEEE!!!!!WHAT IS THE BOMON MOVIE CALLED AND WAS IT FUN TO ACT WITH HIM?
Nandana Sen : hey babli, boman was wonderful to work with. i did two films with him. in my wife's murder, he's the cop hunting me down; in the americn film 'it's a mismatch,' he's my overprotective dad! it's much more fun having him as family than as a predator, i must say.. he made my character cry in both films but in life, he's a total hoot.
---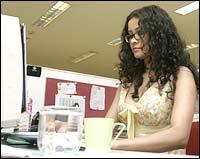 vishalsshukla : hey nandana i loved u in tango charlie u were looking gorgeous...tell mw how is it working with anil kapoor i m his fan as well...is it different than working with ajay or salman
Nandana Sen : thanks much, v.s.! anil kapur is a very impressive actor, it was great working with him.
---
ki : are planning to act in a art movie
Nandana Sen : HI KI! Your name sounds like a japanese poem gone wrong.. or the most commonly asked bengali question.i'll act in any film that excites me, that i believe in - it doesn't matter if it's big or small, mainstream or arthouse; anyway, i think these definitions are fast becoming obsolete, don't you? i think BLACK's success proves that.
---
sandeep : hi nadan! what project u r workig on
Nandana Sen : hey there sandeep! i have four releases coming up - after MY WIFE'S MURDER, my american film THE WAR WITHIN will premiere at the toronto film festival and be released worldwide. that'll be followed by two other 'hollywood' films, IT'S A MISMATCH and MARIGOLD.
---
HotShotDude : What's the worst pickup you have been subjected to?
Nandana Sen : do you come here often
---
cyberhunk : Do u dance ?If so, which dance u like the most ?
Nandana Sen : i love to dance.. i'm trained in manipuri and ballet, and i'm mesmerized by ballroom dances like swing and waltz. dying to learn to tango.
---
Harrycool : Which part of Kolkata do you stay in? I visited Kolkata and my word its a truly beautiful place..I was staying near the Maidan Area..
Nandana Sen : hindustan park, near the lake..
Photographs: Jewella C Miranda