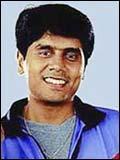 Nagesh Kukunoor's first attempt at a serious film, 3 Deewarein, hit the theatres yesterday. But the filmmaker wasn't able to celebrate.
Felled by viral fever for the last few days, he was busy swallowing Crocin tablets and trying to rid himself of pre-release jitters.
After displaying his expertise at making humorous films like Hyderabad Blues, Rockford and Bollywood Calling, the Hyderabadi filmmaker embarked on the dark subject of life in prison.
His 3 Deewarein is the story of a documentary filmmaker, essayed by Juhi Chawla, studying the lives of three prisoners played by Naseeruddin Shah, Jackie Shroff and Kukunoor himself.
The director spoke to Faisal Shariff about why he made a film on Indian prisons, a subject rarely touched upon in Hindi films, and his secret dream project.
Jails and prisoners have been a part of Bollywood films but never the core subject. What made you film 3 Deewarein?

I always wanted to write a movie on the subject after I saw The Shawshank Redemption, but never really thought about it till much later.

V Shantaram directed Do Aankhen Barah Haath; so thematically movies were made, but there was nothing made on the subject recently.

When I saw a documentary movie on the prisoners at Yerawad jail in Pune about four or five years ago, I was amazed at how a simple person was plucked out of his everyday life because of a single mistake he made; how, as a result, his life changes forever.
It is something I have always thought about. It's a frightening thought. After the screening, the prisoners who featured in the documentary were amongst us. One of them had killed his wife. He was shaking hands with everyone. It amazed me as to how one slip up can change lives and how these guys are just like you and me.

That's the premise of the film. It took me three years to turn it into a proper screenplay.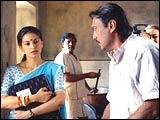 Your last three releases were semi-autobiographical. What kind of research went into 3 Deewarein?

Once the idea came about, I just went with the flow. I let the main story tell itself and the research brought the many layers and nuances required to enrich the script. After the first draft was done, I started visiting jails in Hyderabad since I knew my story would be set there.

I met the cops and understood the procedures. I knew enough people to get through and get the information I wanted.
Everything in the film is genuine. We not only used a real prison, we also had real jailors and wardens show us the way. Things like how the prisoners crouch when the roll call is taken, where they stand when the jailors address them... Every detail is the result of research.
New: Debate: Did Ajay deserve the National award?
Also see:  Chori Chori is heartwarming
Hungama: A confusing comedy
3 Deewarein: Without compromise
Do you write your characters with certain actors in mind?

I did Bollywood Calling with Om Puri in mind. I began 3 Deewarein with Juhi Chawla in mind. Naseer [Naseerudin Shah] and I have been meaning to work with each other for a long time. When the character of Ishaan was complete, I felt Naseer would be perfect for it. Naseer's character is dynamite. So I wrote the rest of the film with him in mind. And as I always cast against type, Jackie was the last addition.

How difficult is it now to get the actors you want for your films?

It's easier now in terms of approaching them and handing them the script and asking them to say yes or no. The difficulty sets in because I work in the low budget realm, so none of the actors are paid their market value. They do it for the love of the project.
Secondly, scheduling is an issue. I shoot in one schedule, as I do not have the luxury of many shooting schedules. Besides, shooting in many schedules completely harms the film. We work very much in advance. When an actor can make both available [lower remuneration and bulk dates], then we take him on.

What do you enjoy more, acting or directing?

Without a doubt, directing. Acting comes second. I love acting but if I had to make a choice I would opt for direction.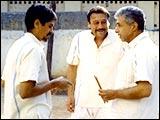 Have you ever been offered roles?

Many times, but there has never been a complete script. The premise was very interesting and I agreed to see the script. All were low budget features; one was in Hinglish, another in pucca [pure] Hindi and a crossover project in Hindi and Telugu.

I want a bound script, not ideas, pitched to me.

What happened to the fantasy film you planned after your second release, Rockford?

It was a sci-fi film. I have written it and it's a huge, huge, huge mega-budget film. It's a Raiders of the Lost Ark meets Blade Runner in a dark futuristic era, a complete action flick. But that, in today's terms, it would be a $ 40-50 million film. I'll sell it to some Hollywood firm soon.

How does it feel to get a yes from Amitabh Bachchan for your next release, Tandoor?

Brilliant. But let it not get in the way till it happens. This is such a notorious field, which lifts you up and drops you. It kicked in when he said yes, but will only really hit home when I start shooting with him.

Which of your three characters has been most enjoyable?

Nagya [in 3 Deewarein], more in terms of creating a character. In Hyderabad Blues, I just played myself. In Rockford, I had to play myself, but be insignificant, be part of the woodwork and let the kids run the show.
3 Deewarien was more of like now-I-have-to-act. I have to be someone else.