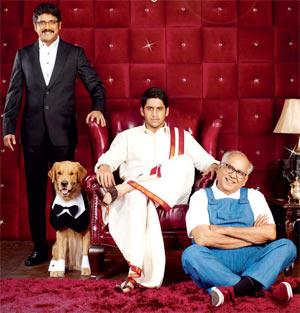 Telugu superstar Nagarajuna is gearing up for the release of his home production Manam, which stars him along side his legendary father -- the late Akkineni Nageswara Rao (ANR) -- and his son Nag Chaitanya.


Bollywood veteran Amitabh Bachchan, who admired ANR greatly, has made a cameo appearance in the film.

This happens to be the Big B's first appearance in a Telugu film.

"We wanted to keep Bachchansaab's appearance in the film a surprise. But nothing he does can remain under wraps for too long.

"My father always thought of him as one of the finest actors of our time. I figured having him in my film would be an honour to my father's memory. When I asked him (AB) he immediately agreed," Nagarjuna says.

The anticipation is mounting as the film gears up for a May 23
release.
The veteran actor says, "It feels reassuring to see Andhra exhibitors clamour to release the film but we don't want to saturate the market with too many prints of our film."
So is he feeling the pressure too?
"When we started out with the film, we weren't thinking about how people would respond to it. My father, my son and I just wanted to do a film together.
Lok Sabha polls will be over by the time our film releases and, luckily for us, even the IPL (the ongoing T20 cricket tournament) finals were postponed. I don't think I've ever been so nervous about any film," Nagarjuna says.
While Nagarjuna and family wait for their home production to hit screens, Rajinikanth's hugely anticipated
Kochadaiyaan
, initially set for a May 9 release, has been postponed to May 23.
Will it be the battle of the year between two bigwigs?
Only time will tell.