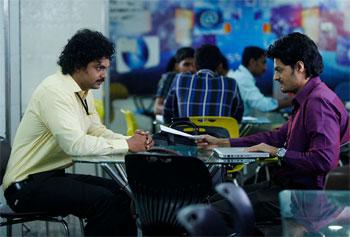 Actor M B Padmakumar, who played the villain in Lohitadas's Nivedyam (2007), will make his debut as a director with My Life Partner.
The unusual subject of the film is a gay couple.
"Two men find that they are more comfortable with each other than with anyone else in this story," says Padmakumar.
He says that homosexuality is an individual choice and he wants to support the cause of those who are inclined so.
Kiran (Sudev) grew up abroad and comes from a broken family. Richard (Ameer Niyas) hails from a business family but prefers to spend time alone in his hostel room.
The two strike up a friendship and start living together. After a while, one of them decides to get married and then the confusions begin.
Both actors say that they were not sure about doing the role, but the relevance of the theme prompted them to go ahead eventually.
Anusree and Sukanya are also part of the film.
My Life Partner has beenproduced by Keerthana Movies.