One of the few Indian filmmakers comfortable on Cannes terrain, Murali Nair's Marana Simhasanam won the Camera d'Or prize (to honour the best first film) at the festival in 1999. His subsequent films Pattiyude Divasam and Arimpara were also screened at Cannes.
Murali set up a production firm, Flying Elephant Films, producing programmes for British television for a decade, till he shifted to Hyderabad two years ago.
Murali's latest work Unni (Life is all about friends) in Malayalam has done the festival circuit, screened so far at the Pusan International Film Festival, South Korea, Goteburg, Milan, Fribourg and invited for the Los Angeles, Sydney, Melbourne and Brisbane fests. The film was mainly supported by the French foreign ministry, and was a Fond Du Sud official co-production between France and India. Also supported by the Swiss foreign ministry, Unni was theatrically released in Swizerland.
Unni's first Indian screening is scheduled during the Hyderabad International Film Festival on March 28. In an exhaustive interview conducted at Murali's house in Hyderabad, Radhika Rajamani got him talking on Unni, his earlier films and life. Excerpts:
The director's statement for Unni starts with an interesting sentence -- the film has a lot of autobiographical elements but is not autobiographical at all. You have taken the characters and atmosphere from your experiences growing up. Was it a conscious decision not to make it autobiographical even though it is borrowed from your life?
You need a parameter to relate to events, rather than creating characters in a vacuum. So one has to borrow the characters and then manipulate the events to suit the film, as a film is a different form of expression. Yes, there are real events which have inspired it, but they are more fictionalised.
You portray a kaleidoscope of rural life through the eyes of Unni and other children. Were some of these incidents part of your life and some conceived out of imagination? How did you pick and choose these incidents?
I remember some of the incidents. It was interesting to fight the barriers (of caste, hierarchy) but not suffocating though. The caste hierarchy gives one a different aspect to look at (the intermixing between castes was not allowed much). For children there was no problem. They did play together and bond, but out of view of the parents. Later, the parents would call them home and tell them not to do so. Basically there were a lot of recollections, and I wrote them down without any structure and then they were woven together.
I am sure many people from Kerala will feel connected to the film…
Yes, people from Kerala will feel so. Also people from other areas too can connect to it as the film has a universal theme of friendship. Whose childhood is not without naughtiness?
Unni is the first in the trilogy. Why did you decide on making a trilogy?
This film looks at different phases of a boy's life. It is anchored in the village. But later the boy moves to the city (Mumbai) and London. I felt I could not tell the whole story in one film. Hence the decision to do the trilogy.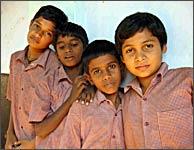 You have dwelt on the boy's father being in the Middle East, and his growing up in the absence of the father, a regular feature in Kerala...
I think about 80% of children (there) grow up without the presence of their fathers as they live abroad. I was inspired to say so as my father too lived abroad, and so did quite a few of the family members.
So is Unni a realistic take on society, relationships and change?
It is realistic to the extent of the relationships between the characters. But if we take the film as a whole, there are elements of fiction.
The film has a multi-layered narrative...
Yes. The friendship is between Unni, an upper caste boy, and Gopi, a boy from the working class. They become close friends. In fact, Gopi takes responsibility for the mistakes Unni makes. Unni's parents do not approve of this bond between the two. Gopi's life is unstable and he has a lot of problems. His father is an alcoholic. But he doesn't bring in his problems in the friendship. Another aspect explored is the teacher-student relationship. The film also looks at how Unni is treated by his mother and grandparents. So, since the film looks at various angles, the narrative has to be multi-layered.
You portray an innocent world of children. Have children lost that innocence today?
I feel that in cities, they have. Children are so occupied in the cities that they have no time to play and mix with other children. In the villages, children mix with other children. It's a different attitude to life and a different world altogether. They had the freedom to mix without the barriers. Now things are changing in the education set up in the villages also. Earlier, most children went to government schools. Now, the middle class wants to send their children to private schools. So the separation has come about now.
You shot the film in the village. Was it your village? Has the place changed? Is the rural ethos undergoing a metamorphosis?
The film was shot in the village (Alattur) next to mine (Anandapuram, near Irinjalakuda). The school in my village has developed a lot. There are good houses around. The school at Alattur is not so developed and is still a poor man's school. So I shot the film in that school.
People in Kerala are not interested in farming anymore; nobody wants to come and work in the fields. That is a big change.
Despite moving out of the rural milieu to the cosmopolitan city of London, do you feel connected to your village?
I do very much. My parents still live there and I visit it.
You have used non-actors in the film. Was this to impart a sense of naturalness? How did you find these children?
In Malayalam cinema today, I don't see any dark-skinned child actor. Yes, I needed children who could speak the Thrissur dialect well. I enjoy working with local non-actors (adults too) as I get real expressions from them. Even their smile is different. It may be hard work to work with non-actors, but it's worth it in the end.
It was difficult to find the children. We conducted the search in many places and finally I went back to my old school and found them there. I did a screen test and we had a theatre workshop for them stretching over a month-and-a-half.
Did the award at Cannes help you in finding producers?
It certainly helps as it gives me an identity. Funding is getting increasingly difficult. I am used to it, and it is part of the process of making a film.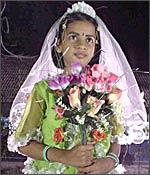 The film has travelled to some festivals abroad. Why has the film not been released in India?
There is no releasing strategy in India. I have not tried my hand at distribution. It's a big step to take. I have not explored the distribution network. It's a shame that such movies don't get released in India. No doubt our distribution strategy is led by commercial interests that look at the returns. As an independent filmmaker, how far can one go?
I am often blamed that I make films only for the audience abroad. Which distributor distributes art-house cinema? There has to be a cooperative or a distribution body which undertakes distribution of art-house films, otherwise there is no future.
What are you trying to convey through Unni?
I don't believe in a message. What people get out of the film matters. There is no direct message in the film.
When are you starting the second film in the trilogy?
I thought of starting immediately and shooting all the three back-to-back, but will not as I am thinking of some other project. So there will be a gap, and I will start shooting sometime later.
Don't miss: Part 2 of the Murali Nair interview: 'Now, Bollywood is promoted at Cannes'