British novelist H R F Keating, who died on Monday aged 84, created his best-known character Inspector Ganesh Ghote without visiting Mumbai.
Filmmaker Zafar Hai salutes the writer who first made Mumbai famous in the world of detective fiction.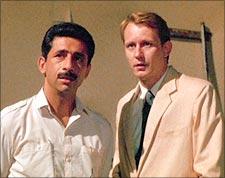 In 1986, a crime movie, produced by Merchant-Ivory, with an international cast, was shot in colourful locales across Mumbai.
It starred Naseeruddin Shah, Madhur Jaffrey, Johnny Walker, Ratna Pathak and Norwegian actor Stellan Skarsgard.
Image: Naseeruddin Shah as Inspector Ganesh Ghote and Stellan Skarsgard in a scene from the film, above.
The star character of the film was a diffident, modest Bombay policeman named Inspector Ghote. The movie: The Perfect Murder.
Inspector Ghote's creator, crime novelist Henry Reymond Fitzwalter Keating, who died on Monday in London at the age of 84, had a small role in the film.
Keating wrote nearly two dozen novels with Ghote as the unpretentious hero, and set them all in Bombay without having ever set foot in the city!
Filmmaker Zafar Hai, who directed The Perfect Murder, remembers his friend Harry Keating:
Whenever I think of Harry -- we have been in touch all these years -- I think of him with a warm smile and always with a feeling of real affection.
It was in the 1980s when I first met him, introduced by (filmmaker) Ismail Merchant, who had the film rights of his very first Ghote book, The Perfect Murder, which I went on to direct as a film.
We wrote the script of that film together, Harry and I. For about 10 days, in early winter, I sat with him in his semi-detached house in Notting Hill, trying to convert his book into a film script. It was at that time that I really got to know him well.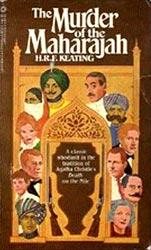 It was the start of a friendship. Whenever my wife and I were in London we would make it a point to spend some time with Harry and Sheila (actress Sheila Mitchell).
The last time I saw him was when he came to a show of a film I had made at the V and A (the Victoria and Albert Museum) about five years ago. I didn't quite realise how old he was.
We exchanged Christmas greetings every year. I just heard from him in December. He seemed fine and we were looking forward to meeting him in London.
He came to Bombay to witness a part of the filming of The Perfect Murder. That would have been 1986. The film was shot in Bombay. In fact, I gave him a small walk-on part.
I think he treasured that time greatly because as you know he wrote a great deal about Bombay without ever having come here (in great detail and with accuracy).
I think he accidentally hit on basing (his novels) in Mumbai. He was looking to do something unusual, create an unusual character in an unusual setting.
He probably just chanced upon setting the stories in Bombay; creating a Bombay police inspector. No, he had never visited any part of India before he came to Bombay, absolutely not.
He loved being here. The thing about Harry was that he was very open to people. Very sympathetic. Very curious about everything. He was a very gentle soul and I think he loved the openness of everything here. He was able to sense what life was all about here very quickly. He was in Mumbai for about 10 or 15 days, if I am not mistaken.
His walk-on part was an international traveler at the airport. We were doing an airport scene where the Swedish detective arrives, played by Stellan Skarsgard, who is now a very famous actor. Naseeruddin Shah played Inspector Ghote.
There was a scene between them at the airport and Harry was one of the travellers who got in the way. He loved that sort of thing.
For me it is a personal loss. I was very fond of him. It was a bit of a pilgrimage to go to his house in London, talk about his latest writing and to tell him about what was happening back here.
I am going to miss him.
As told to Vaihayasi P Daniel.