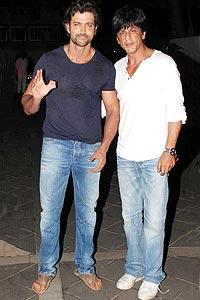 Actor Sanjay Kapoor's wife Maheep Kapoor's
birthday bash
took an ugly turn when an invited guest got into an altercation with actor/producer Sohail Khan and later with Shah Rukh Khan.
Mozez Singh, a producer was one of the guests at the party on Friday and passed some lewd comments at the women Sohail Khan and his wife were talking to. Sohail tried to ignore the remarks initially.
Things
got out of hand when Mozez refused to stop and Sohail had to ask him to back off. What ensued was a heated argument and was sorted only when Maheep intervened.
That wasn't all, on his way out, Mozez bumped into Shah Rukh, Hrithik and Karan Johar  who were waiting for the lift and launched into a tirade against Shah Rukh.
When Mozez didn't stop despite warnings, Shah Rukh grabbed his collar and warned him. And this time it was Sanjay who jumped in to placate both the parties.
Now that's one birthday party Maheep would want to forget!