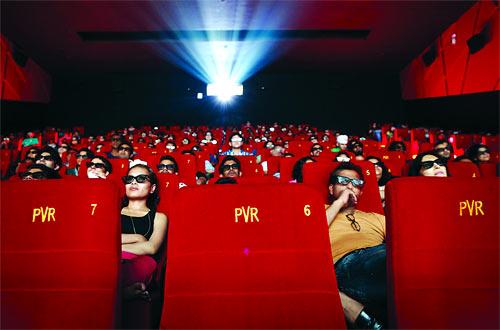 'Movie theatres, despite their diminished stature, will continue to play a role in our culture. Just like cinema. After all, we have at least another big centennial to commemorate in our lifetime,' says Murali Kamma.
Can movies ever be the same again?
As the first century of Indian cinema winds down, I can't help wondering if what we were commemorating this year was actually the passing of an era.
Will multiplex sound as archaic as the talkies one day?
Films will continue to be made, of course, and the demand for them is not going to end. My point is about moviegoing -- and the explosion of devices, not to mention diversions.
In my childhood hometown in India, entertainment meant a trip to one of the theatres on the aptly named Cinema Road, which was inevitably clogged with traffic.
Eager moviegoers swarmed around roadside vendors or stood in snaking lines for tickets, creating a carnivalesque scene.
A Sunday morning treat was that week's Hollywood flick at Pick-Your-Goddess Talkies.
And now? Now I have relatives there who can -- and do -- watch entire films on a smartphone.
I am still behind on the technology curve -- I don't watch films on a laptop, let alone my smartphone.
Nevertheless, even for me, cinema queues are a distant memory. The only queue I have to contend with is the DVD line-up in my Netflix account, though the shuffling I do these days is more out of wistful longing than any realistic expectation of being able to watch all the films in my ever-expanding list.
Blockbuster went out of business recently, but Netflix's subscriber base hit the 40 million mark.
For much of the last century, nothing dominated the entertainment landscape quite like films, whose defining feature for many decades was a communal experience -- the magic that occurred when you sat quietly amidst strangers in a darkened theatre.
Barring exceptions, true cinephiles would say, that is the only way to watch films.
In reality, it has been a long time since theatres held that monopolistic sway. Maybe the turning point came with the affordability of VCRs -- remember those? -- though it was television that first brought change.
Cinephile or not, the demands on our time have grown so much that going to the movies has become a rare luxury. More high-quality television shows are readily available now, making it harder to plunk down hard-earned money for movie tickets that aren't exactly cheap.
Then there are the endless distractions of the Internet, available just about anywhere. No wonder theatres are looking for creative solutions to boost revenue.
Movies for ethnic communities, 3D films, the Met's opera broadcasts in HD, film festivals, private screenings -- all seem like possibilities.
Indian films are a good example. Only five years ago, according to Box Office Guru, major Bollywood films opened in perhaps 83 theatres across the US and Canada. Now, films with a marquee name like Khan open in over 160 theatres, frequently in chains like Big Cinemas, AMC and Regal.
What's more, given America's widely dispersed South Asian population, this boom is not confined to first-tier markets. That hot new Hindi film could be playing near you.
Another strategy for theatres is to get fancier.
The New York Times writer Anand Giridharadas checked out one of these upgraded AMC theatres, where the seats are so plush that one could easily curl up and take a nap -- even if the film is interesting.
And the recliners do belong to a larger crop of innovations worldwide: in Mumbai, its theatres offer waiter service to your seat; in Tokyo, it is loose chairs that can be rearranged; in Mexico City, it is something called the X4D Motion EFX system, which, when fully loaded, can enhance a movie by blasting air and mist at you, rolling your seat around in tandem with the onscreen drama, tickling your legs with a little rod and poking shiatsu-like into your back, Giridhardas writes.
Talk about special effects.
Most hardcore film lovers would find such advances gimmicky.
Besides, didn't something similar happen before?
In the 20th century, just as cinema was hitting its stride, many ornate theatres were built, and moviegoers often dressed up for the outing.
In India, too, we had theatres like Bombay's Coronation Cinema Hall, where the screening of Dadasaheb Phalke's Raja Harishchandra in 1913 announced the arrival of Indian films.
But in the US, with the rise of television and suburbia, that grand period was over by the late 1940s. Sure, drive-in theatres were popular outside cities, but that had more to do with America's romance with the automobile -- and, in any case, even those went out of fashion by the 1960s.
Now, to have that epic cinematic experience in the suburbs, how about going to a modern-day Great Gatsby's McMansion? It is bound to have an opulent, up-to-date home theatre.
Some of the movie mahals I went to in India were less grand, but they had character nonetheless. So I was a little saddened when a landmark theatre -- where I had spent many a happy hour being thrilled, chilled and tickled -- closed not long ago.
I am a realist, however, not a pessimist. And I like the diversity of viewing options available today. How else would I have access to all the great films I long to watch? Making time for them is another matter.
Movie theatres, despite their diminished stature, will continue to play a role in our culture. Just like cinema. After all, we have at least another big centennial to commemorate in our lifetime.
While 1913 was important, I'd argue that transposing the last two digits gives us an even more crucial year for Indian films. That was when sound entered the picture, so to speak.
The addition of speech and songs in Indian languages was transformative, ending the era of silent films.
Ardeshir Irani's Alam Ara, India's first talkie, had a dozen songs -- and in 1931, the year it was released, there were reportedly 27 other new Indian feature films, of which 22 were in Hindi, three in Bengali, one in Telugu and one in Tamil.
Most of them were commercially successful. There was no looking back after that -- Indian cinema had made its mark.
Murali Kamma is an Atlanta-based writer and editor.