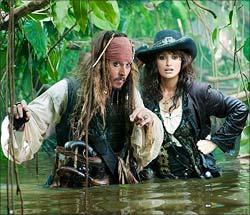 Raja Sen reviews Pirates Of The Caribbean: On Stranger Tides. Post YOUR reviews here!
Few could disagree with the choice of players. If one could choose only two humans in all of existence to actually seek out the Fountain Of Youth, they'd be hard-pressed to find a more suitable pair of specimens than Johnny Depp and Penelope Cruz, worth rooting boisterously for. Two extraordinarily attractive actors drunk with talent but made special by their unique gift for embracing the silliness, they bob, feint and parry their way through
Pirates Of The Caribbean: On Stranger Tides
, an altogether undeserving film. They do act, in short, their way out of this cinematic paper bag.
There are a few interesting ideas afloat in this fourth installment of the Pirates franchise, most intriguingly how the English, under King George II, commandeer various 'Privateers' to sail for them, so they can stay abreast with the feared Spanish Armada. These privatized pirates are a fascinating thought, and it is tremendously entertaining to see one of the series' most legendary sea-dogs looking even more sinister when in uniform and invoking His Majesty's will. In this particular film, in fact, he feels more of a conventional leading man than even Sparrow.
Then again, Jack -- "there's a captain in there somewhere" -- Sparrow would sooner be dead than conventional. By now clearly Depp's flagship character, the devastatingly original and uncannily charismatic charlatan is a hoot as ever, and it is wonderful indeed to watch him lurching magnificently around on screen again -- even if the lines are weak as bilge-water and the plot is predictable. And then there's the jawdropping goddess Cruz, playing Angelica, the only woman to give Jack "stirrings", and justifiably so -- O perfect, pneumatic, pirate's daughter Penelope.
The cast and characters are, without question,
the finest part of this film. Ian McShane has a wild old time as the infamous Blackbeard, looking like a grizzly old nightmare version of Sparrow himself. Geoffrey Rush, unencumbered of having to teach monarchs how to enunciate, sinks his teeth into Hector Barbossa's part yet again, the role meatier this time than ever. Keith Richards returns as Jack's father Captain Teague, while Richard Griffiths is visibly tickled as he plays King George II. And nobody has ever quite carried off mutton-chop sideburns like Kevin McNally's Joshamee Gibbs.
Yet despite this smashing bunch, Jack putting the 'arr' in Sparrow and his eyebrow-singeing chemistry with the swoonworthy Angelica, the film disappoints because of its complete lack of ambition. Director Rob Marshall, the man behind
Chicago
and the inexcusably hideous
Nine
, never quite seems to find an assured footing on board this ship. The action sequences, of which there are far too many, are long-drawn and exhausting. There is, as said, extreme predictability in an all-too-convenient movie constructed by the numbers. Oh, and there's way too much room given to a blubbering priest who speaks in platitudes and deserves to be shark-bait. Wit and smarts are here replaced by vampire mermaids and zombies, and that really is all you need to know.
There is a Jack voodoo doll, the Black Pearl will return with a perhaps tiny fleet, and Ponce Da Leon's skeleton has a fabulous moustache, to be sure, but that makes up for little in the final tally.
The first Pirates movie was a great adventure, the second extremely enjoyable while far too cartoony, the third an overcrowded mythological minestrone staggering under the weight of its own bloat. This fourth is an unoffensive and entirely unimpressive venture, a piece of popcorn that doesn't even try to be anything interesting. It's just not savvy.
It's like a forgettable hit song, a random piece of bubblegum. And 'yo' never worked as well as 'yo-ho-ho.'
Rediff Rating: