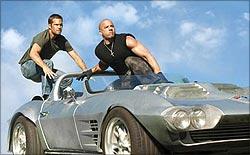 Shaikh Ayaz reviews Fast Five. Post YOUR reviews here!
The opening scene, wildly preposterous but pulse-quickening nonetheless, sets the tone for this fifth instalment of the
Fast and the Furious
series. While it may have none of the classiness of the heist/car chase films like say
The Italian Job
(the one starring Michael Caine, please) or McQueen's
Bullitt
, Justin Lin's
Fast Five
is pretty chic and keeps you chained to your recliner.
It's got silly stunts, most of them look humanly unperformable, but they fit within the context of the plot which is dafter still. The film chooses an interesting location, Rio de Janeiro, though the beautiful beach-side Brazilian city has been captured rather exotically in movies ranging from the 1959 musical
Black Orpheus
to the
City of God
in 2002.
Within few minutes into
Fast Five
and you're informed by all kinds of television presenters of a manhunt launched against the fugitive Dominic Toretto (Vin Diesel) making him appear as if he's Latin America's most wanted man, and not just another cool car stealer. Once his credibility, or the lack of it, is established, Dominic links up with Brian O'Conner (Paul Walker) who's dating the latter's sister Mia (Jordana Brewster) and a bunch of slick blaggers to pull off a heist of $ 100
million.
The money belongs to Hernan Reyes (Joaquim de Almeida) who has moved the top dollars to the police station and he's certainly not going to part with his wealth without sticking them up. Surprisingly, it is Hernan who delivers the best line in the film, when he talks about the methods to employ while dealing with people, "If you dominate the people with violence, they will eventually fight back." Keeping a vigil over it all is The Rock, the wrestler Dwayne Johnson, who looks so strong and well-built that one wonders why he has to resort to those automatic machine guns at all. 
A heist caper such as this could have really done well with some well-heeled sidekicks, peppy banter and better scenes than entering the fortified harem of a powerful crime boss with bikini as bait. That said,
Fast Five
comes to life in wonderfully-filmed car stunts and the hare-coursing chase atop Rio's roofs. There isn't much of acting required here and it can be stated rather explicitly that none of the actors even look like they are making an attempt.
Despite that,
Fast Five
never bores you. It's tight, uses its material well and is slick in the way it's shot. Clearly, the soul of the film is its muscle-flexing action sequences, moving train stunts and Rio's underbelly.
Rediff Rating: