California girl Susan Murphy [Reese Witherspoon] who is understandably excited over her impending wedding is blind to the central flaw in her fiance, the newscaster Derek Dietl [Paul Rudd]. He is self-centered and has no hesitation in putting his career ahead of their life together.
Imagine his reaction when a meteor strikes and makes Susan nearly 50 feet tall. He cannot think of anything else but his own career -- he wants to get an exclusive interview with her to boost his career.
But he is sidelined in no time as the plot thickens in the fast-moving 3-D movie Monsters vs. Aliens, which has created quite a bit of buzz and is expected to set a March record when it opens on 3000 screens in North America this week and in many major markets
At least 250 IMAX theatres worldwide will be releasing the film; in its first foreign outing, the film opened to a strong $6.75 million in Russia over the weekend. [It was released first in Russia because of the huge piracy market there].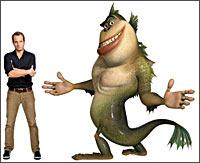 The US armed forces, led by Gen WR Monger [Kiefer Sutherland], whisks 'monster' Susan to a super secret location where monsters have been imprisoned by the American government. Her companions include some of the most colourful characters seen in the movies for children and young adults: the insect-headed scientist Dr Cockroach, Ph D [Hugh Laurie], the gelatinous but indestructible BOB [Seth Rogen], the half-fish/half-ape The Missing Link [Will Arnett] and a huge bug known as Insectosaurus [no actor because this monstrous doesn't speak]. Not to forget Gallaxhar, the power hungry alien commander.
This is the first 3-D film from DreamWorks Animation, the studio that gave us in recent years such huge hits as the two Madagascar films as well as the Kung Fu Panda.
Until recently, most 3-D fare produced for non-IMAX movie screens was an afterthought, converted from 2-D, Conrad Vernon who directed the new film with Rob Letterman has said. But Monsters, however, was designed and filmed with 3-D in mind.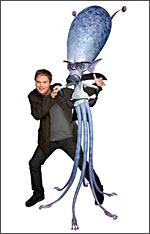 The Paramount-distributed film offers quite a few delights to the adults, especially the voices of some of the best-known movie and TV actors including the Oscar winner Witherspoon. And then there are references to other monsters in the movies and films such as E.T and Close Encounters of the Third Kind, which were produced and directed by Steven Spielberg, the co-founder of DreamWorks.
The film gains more momentum when the American president [Stephen Colbert] releases the monsters when an alien robot invades the planet. The Monster Squad knows that it win their freedom by defeating the aliens, particularly the multi-eyed, octopus like Gallaxhar [Rainn Wilson].
One of the highlights of the film has Susan slipping sports cars on her feet and dashing through San Francisco's famous steep streets.[And in the days when India is cropping up in several films including Slumdog Millionaire and Rachael Gets Married, this movie too has an Indian connection, though a fleeting one. When the president demands a meeting with the America's top scientists, a phone call instantly is placed to India.]
Witherspoon says she took up the film because of its appeal to many segments of the audiences, 'It has got a great story boys like, action and adventure,' she says in the production notes of the film. 'But it also has got this great message for girls -- about really finding your true self, what you really value about yourself...' 
For director Vernon and co-producer Lisa Stewart, Witherspoon's stature meant a lot. 'We thought it would be great and a nice contrast to have a petite girl play a giant woman,' Vernon says in the press notes. 'Susan is living vicariously through her fiance. We liked that idea and turning it around ...So when she becomes the most powerful woman in the world, she realises that she doesn't really need him to lead an amazing life she had always wanted.'
Laurie as Dr. Cockroach Ph.D." src="http://im.rediff.com/movies/2009/mar/26monsters3.jpg" align=left border=0>Stewart adds:' Five feet, one-and-one half inch Reese Witherspoon playing the five-story monster was instantly appealing to us. Reese is a great actress, really smart and game for anything. She sunk her teeth into the character.'