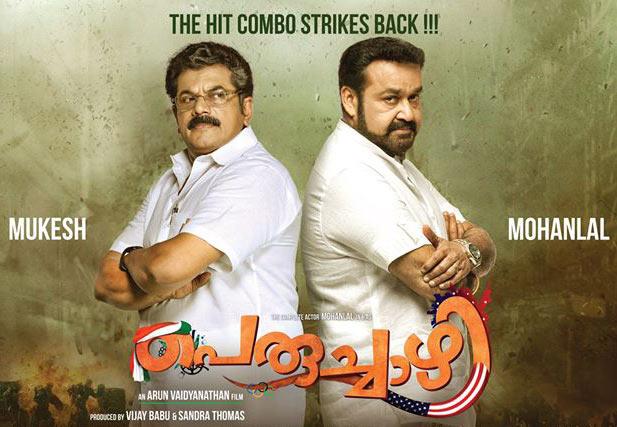 'My wife is still in disbelief that I directed Mohanlal,' New Jersey-based filmmaker Arun Vaidyanathan tells George Joseph/Rediff.com
Image: Mukesh and Mohanlal on the Peruchazhi poster
Peruchazhi (Bandicoot), a Malayalam comedy, will release during the Onam season, both in India and the US.
Its writer and director Arun Vaidyanathan is a native of Tamil Nadu, but lives in New Jersey and knows very little Malayalam.
Yet, he says it was no problem directing the Mohanlal starrer.
The film's plot revolves around the election campaign of John Kory, a Republican nominee for the Governor of California. Kory struggles to raise his ratings and his chief campaign officer, Sunny Kurishinkal, runs out of ideas to ensure victory.
Sunny reaches out to his friend Francis Kunjappan (Mukesh) back home in Kerala to hire a political consultant to devise a campaign strategy.
Kunjappan recommends his archrival Jagannadhan (Mohanlal).
Kunjappan thinks Jagannadhan's unorthodox ideas will fail miserably in the US. But to his surprise, Jagannadhan succeeds with every move.
After gaining great ratings through Jagannadhan's ideas, Sunny betrays him. Sunny's love for an Indian-American girl Jessie complicates matters.
Adding to the laughs are Jagannadhan's assistants, Jabbar Pottakuzhi and Vayalar Varki.
The film is produced by the Friday Film House founded by Vijay Babu and Sandra Thomas.
Vaidyanathan wrote and directed Br(a)illiant, a short comic film as part of his student project at the New York Film Academy way back in 2004. In 2009, he wrote and directed the Tamil film, Achamundu, Achamundu.
New Jersey-based filmmaker Ajayan Venugopalan, who knows Tamil and Malayalam, translated the script into Malayalam. "The crew members knew Malayalam and everybody knew English. So language was no problem," Vaidyanathan says.
"When I thought of a star to play the role of Jagannadhan, Mohanlal immediately came to mind. My wife Rajitha, who is from Kerala, is an avid fan of Mohanlal. Through a friend, we contacted Mohanlal in Dubai. He liked the story. The story is based on politics and I follow politics both here and in India very keenly."
Vaidyanathan expects and wants the film to be a commercial hit, "but it should also be noted for its artistic merits. The audience will enjoy it as it is an untold story."
He is full of praise for Mohanlal. "He was very friendly and he became family. He never behaved like an actor. He is a great human being and a great actor."
"He understood the character perfectly. It was like going to a buffet where we get many things at one place."
Vaidyanathan says his Malayalam is better now and he wants to make Malayalam films.
"My wife is still in disbelief that I directed Mohanlal," he adds.