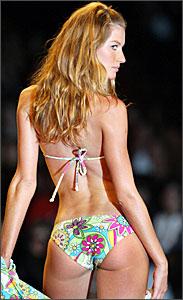 Pictures of supermodels Kate Moss and Gisele Bundchen (in picture) baring their bottoms are expected to fetch about 1.5million pounds when they go under the hammer.
The pictures are part of a collection owned by German-born collector Gert Elfering, who even had an original image of Brigitte Bardot.
The pictures are part of the 135 pictures that are being auctioned.
'The stylised, idealised female figure occupies a privileged place in Elfering's aesthetic,' the Sun quoted auction house Christie as saying.
A few of the pictures went on display March 10 at Christie's in London, but the sale will take place in New York in April.
Text: ANI | Photograph: Getty Images