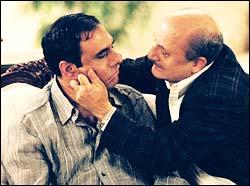 An American film about two totally, insanely diverse sets of in-laws trying desperately to get along with their kids?
Sure, that was Meet The Fockers.
But It's A Mismatch is crucially different -- it is about a rather dysfunctional pair of in-laws, yes, but these guys are Indians.
The English film features Boman Irani and Anupam Kher as the fathers at odds, and Nandana Sen plays lady love to the film's writer-producer, Anubhav Anand. The film is directed by Anubhav's partner, Amjal Zaheer Ahmad.
At a Mumbai press do to announce the film, the actors gathered up and let us in on some information. Currently hoping for a January 2006 release worldwide, It's A Mismatch is best described as a fully American film -- just made by, and starring, Indians.
Ajmal, currently trying to negotiate deals with major American studios to distribute the film -- they insist that it must have a wide theatrical release in the US -- wasn't present to talk about his first film, but the leading man was more than willing to explain the concept.
"Without sounding pompous," said Anupam Kher, "I'd like to say that this film is almost like a Romeo and Juliet story, but only about Indians living in America." The actor elaborated on the fact that cultural differences are far more marked when we live outside our native country, and how we are a lot more cliquish. As a result, people cluster together in their own communities.
Aman (Anand) meets Neha (Sen), and it seems like a perfect match. Their families, on the other hand, are a whole different story.
Aman comes from a hardcore Punjabi background, and his father, Mr Bhalla (Kher) is a loud, over-the-top, and perpetually excitable man. Neha's Gujarati dad, Mr Patel (Irani) is a soft spoken, straight-laced man. The result is an obvious farce, a comedy born out of accents and irritation.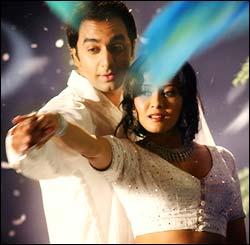 From the theatrical trailer shown to the media, it is obvious the film isn't making any attempts at subtlety. Anand is quite upfront about the film being a very basic comedy. "If people liked My Big Fat Greek Wedding, then they should like this film."
The film brings together an interesting assortment of talents. Besides heavyweight Indian actors in Boman and Anupam, It's A Mismatch boasts of solid Hollywood credits as well. The film's director of photography is Robert Mehnert, cinematographer on Hollywood blockbusters like Air Force One, The Sum Of All Fears and Fight Club. Line producer Alan Noel Vega has been involved with directors like Oliver Stone and Peter Medak.
Montreal band Josh has provided the film with original songs. "It's a romantic-comedy-drama-musical," laughed Anand.
Nandana is excited to be a part of the project, "simply because it let me work with two such talented leading men (Kher and Irani)." She adds, "It's a fun film, and I wanted to be part of a full-fledged comedy for a while now."
But with characteristic candour, Boman sums it all up perfectly. He smiles along and reiterates what everyone else says, but wraps it up with the definitive bottomline: "And the paycheques weren't bad."