Making Life In A... Metro may have been therapeutic for it's writer and director Anurag Basu, but the film was not even on life support when it opened in the United Kingdom and North America.
The much-hyped film was dead on arrival (DOA), as they say in America and it's box-fate only heightened the gloom following the disappointing run for Ta Ra Rum Pum and Provoked.
Shilpa Shetty's controversy, notwithstanding, the film did not do that well in the United Kingdom. In fact, some reviewers thought she was no match for her costar Konkona Sen Sharma.
However, her appearance along with mother and sister Shamita at the film's premiere at the famed Leicester Square helped create publicity for the film. In fact, the influential American trade publication Variety could not resist playing up pictures of the Shettys with the film's producer Ronnie Screwvala.
Shilpa must have given over 25 interviews publicising the film in UK and Australia.
But to what purpose? The film's $100,000 weekend gross in about four dozen theatres in UK and its abysmal $62,000 gross in North America proves that the paying audiences are not enamored by the celebrity factor.
The film's different plots and popular music failed to impress. Even the BBC, which reaches mostly South Asian viewers was none too enthusiastic.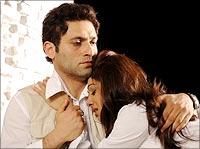 'Writer/director Anurag Basu's loosely-knitted collection of short stories do well to avoid the usual melodrama and song sequences associated with Hindi films,' the review said, 'but his sex in the city style portrayal of metropolitan India is

far from thrilling.'

 

Jaspreet Pandhohar who gave the film two stars (out of five) added: 'Basu's attempt to weave disconnected stories together like common strands of rope fails on an entertainment level. Only the tale of the feminist virgin who meets her match in a chauvinist, played to comic perfection by (Konkona Sen) Sharma and Irrfan Khan, raises genuine interest. The rest of the stories, including Ms Shetty's underwritten role, have been done before and better ' 

 

In North America, the film trailed behind Ta Ra Rum Pum, which occupies the 45th position at the box office. The film grossed $65,000 in its third weekend, taking its total to a disappointing $768,000.

 

But there was still good news for Metro producer UTV. The Namesake reached $12 million in North America in its 10th week. The Mira Nair directed film could be around for at least four weeks with a final $13 million gross looking realistic.

 

Meanwhile, the domestic violence drama Provoked, which had a fairly decent run in the United Kingdom grossing about $1.5 million, could be on life support in America. The film, which received mostly negative reviews from major American publications, does not seem to have created a big buzz with the desis.

 

'With its tone of unremitting gentility, Provoked may be the most restrained wife-beating drama ever to grace a movie screen,' The New York Times declared.

 

'Based on the true story of Kiranjit Ahluwalia (played by the Bollywood star Aishwarya Rai), a London housewife from Punjab who killed her sleeping husband in 1989 using a homemade cocktail of gasoline and caustic soda, the movie is tasteful to a fault. Unfortunately, in keeping its inflammatory subject matter at arm's length, Provoked does exactly the same to its audience.'

 

As for Ash, the review declared: 'Ms Rai makes a pretty but wispy screen presence, spending most of the movie in a state of moist-eyed apprehension.'