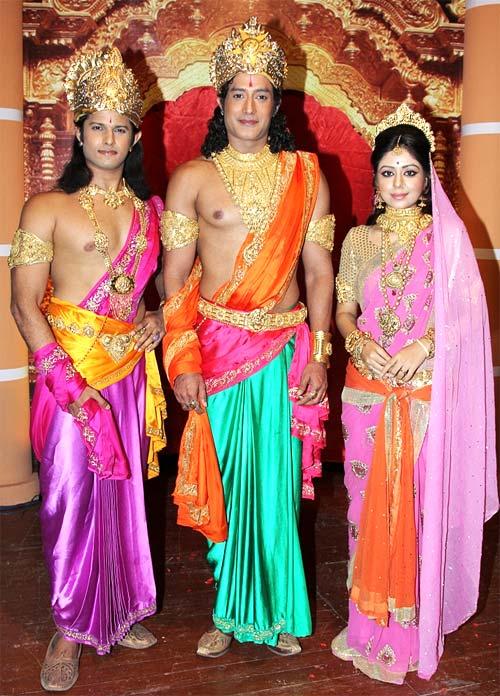 G
agan Malik
and
Neha Sargam
play the parts of Lord Ram and Sita respectively in the latest version of Moti Sagar's mythological epic
Ramayan
, on Zee TV.
Till last week, the serial was still showing the childhood years of the characters. Then, on Sunday, it took a leap in time and showed the actors in their adult roles.
Neha came to public notice in
Chand Chupa Badal Mein.
She was shooting for a cameo in 
Punar Vivaah
 on Zee TV when she was asked to give a look test for 
Ramayan
.
"They said it's for Sita. I thought I would have to go through various look tests and dialogue delivery. Luckily I had to go through only three," she says.
"Speaking chaste Hindi isn't a problem for me because I speak good Hindi. But my vocabulary is not that great," she grins.
Work was hectic at the time. "I was offered two others shows along with
Ramayan,
 but I think no other show can be compared to 
Ramayan
. Family dramas will keep coming, but 
Ramayan 
will come once in a decade. Nobody on earth would like to miss this opportunity."
Has she watched the earlier versions of Sagar's 
Ramayan
?
"I was not born when the first
Ramayan 
was aired on Doordarshan. But I have managed to watch the repeats on DD and other channels. I have not really followed the second version but have watched it in bits and pieces."
How much does she know about the epic?
"I have been hearing about it from my mom and grandmom from my childhood. So I guess I know quite a bit about it. My grandmom had written the word 'Ram' 84 lakh times in a book, which I still have."
Her grandmother, who has passed away, would have been delighted to know that she was playing this role, Neha says.
"The biggest change that I have discovered in me is that even before I starting shooting, the fact that I am playing Sita has made me tolerant. Earlier I used to scream at people if they came my way while driving. Now I wait till they cross."
About her co-star, Gagan Malik, she says, "I met him for the first time during the look test and photo shoot. He told me that I looked exactly the way he imagined Sita would look. And I said he looked exactly how I had imagined Ram!"
She says she is comfortable with the heavy costumes she has to wear "but it takes some time to get ready!"
Neha says she not done any homework for the role but "I have started doing my riyaaz (she was an Indian Idol contestant) regularly. It helps me to concentrate on my work."
Gagan Malik, who acted in the TV serial Navya, was selected to play Lord Ram after a long process.
"I went through a series of tests for three months. They were looking for the appropriate look, physique, dialogue delivery and of course the acting skills. When it came to the costume, I saw a shine of satisfaction in the eyes of the judges."
Did he do any kind of preparation for his role?
"I'm from Delhi where we used to have a centre that used to organise holy events. I would always play the role of Ram and Krishna in those events and I feel all that have paid off," he says, smiling.
He had to lose around seven kilos to look like Ram during his sojourn in the forest.
Gagan says his mother is a Ram Bhakt. "She has read the Ramayan more than 200 times and has written the word 'Ram' around two crore times. Now she must be happy that she can see her son in the same role." 
Has he read the Ramayan? "I haven't read it completely but I have started reading it. I know the entire story because I used to listen to my mom."
Any change in his lifestyle after playing this role? 
"I have stopped eating non-vegetarian food. It is not that I have taken a pledge against it but I just happen to follow it," he says.