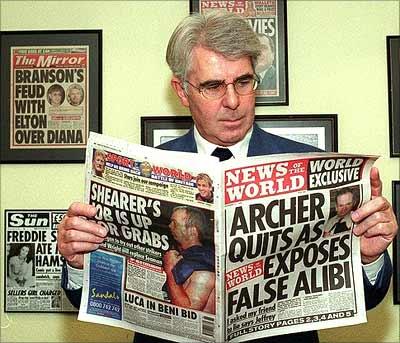 They call him
Max Clifford
.
'They' being the UK tabloids, a massive industry owing its most sensational stories to this always controversial publicist.
Clifford has promoted tremendously popular global celebrities, from The Beatles to rock legend Jimi Hendrix and actor Marlon Brando. More recent clients include magician David Copperfield, businessman Mohammad Al-Fayed, whose son Dodi died along with Princess Diana, and now our very own Big Brother winner, Shilpa Shetty.
Shilpa Shetty wins Big Brother| Pix
While his detractors describe him as ruthless, others recognise his talents as an astute manipulator of the media.
Consistently outrageous, Clifford is best known for The Sun headline, 'Freddie Starr ate my hamster,' a story comedian Starr later admitted was completely untrue -- yet this was a lie he was glad for, because he truly needed the publicity.
Clifford -- who has broken the David Beckham-Rebecca Loos scandal and exposed Jeffrey Archer -- admits he knows no limits in getting his clients the ultimate publicity, yet seems to have a code of conduct. A philanthropist who spends a lot of time and money giving to charities, he claims to have exercised discretion in his choice of scandals -- sometimes even working for free -- and says he is governed by his own set of ethics.
At the height of the Michael Jackson scandal, even Clifford washed his hands off the affair, saying, 'It would be the hardest job in PR after Saddam Hussein.'
'Max has become synonymous with this particular kind of journalism,' says former Sunday Times editor Andrew Neil. 'The tabloids are getting nastier all the time, but you can't blame him for it -- he didn't create the tabloids; he's simply a facilitator. If Max Clifford didn't exist, they'd invent someone.'
Complete Coverage: The Shilpa Shetty Story
Shilpa's deal with Clifford seems to have been made while the contestant was still in the Big Brother house. This has led to speculation that either her mother inked the agreement, or that the sanctity of the house isn't quite as sacred as broadcasters Channel 4 would have us believe.
Bollywood speculates on Shilpa's future
Clifford, who has received death threats and is more infamous than revered (even though The Drum magazine did rate him PR Personality Of The Year), now seems all set to give his first Indian client a whole bunch of headlines.
In closing, a look at an interesting list: Max Clifford's 10-point guide to becoming famous, as told to Fame TV:
1. Appear on a reality series
2. Enter a talent contest
3. Be abysmal on a talent show
4. Gain fame by association
5. Date a celebrity
6. Flaunt your body
7. Date a member of the British Royal Family
8. Make a home sex video
9. Be a success on MySpace
10. Be in the right place at the right time
Ahem. Something tells us Shilpa might end up much bigger than we currently imagine.
Also read: Max Clifford, The BBC profile