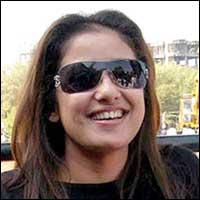 Manisha Koirala has been provided police protection in the wake of protests following a media report claiming she had named her dog after a revered Muslim figure.
Subhash K Jha spoke to the actress, and she tries to clear the air:
You seem to have got yourself into a fix over your dog's name.


Wherever I go, I'm followed by trouble. I can't understand why I'm always singled out for controversies! This latest one just takes my breath away because it's so false, malicious and ugly.
You mean you haven't named your dog after a revered religious figure?
I don't have a dog, let alone a dog by that name! Am I mad to do such an ugly and sacrilgieous thing?
I come from a family where we were taught to love and respect every community and religion. Disrespecting another human being, let alone another person's religion or culture, is alien to me.
I'm a Hindu and a Nepali by birth. But I'm as Indian as anyone else in this country. I believe in all the secular values that Indian democracy is famous for.

I

 

may be

 

crazy but I'm not

that crazy.
I'd

 

never call my dog Mustafa. 
When I read this hideous error in the newspaper, I laughed it off, thinking it was a printing error. I had gone for an election campaign to Nepal, and my mind was totally focused on that. I returned to Mumbai, and this big problem was waiting for me. The police inspector came home to see if I had dogs. But I haven't had any dogs for two years.
So the police inspected your home?
 
Not once, but twice. There is a police officer staying in my building who had already informed the cops that I had no dogs in  my home for two years, and the ones that I had were named Tanya and Tweety.

How the names got changed in print is beyond me. I don't understand why this trivial story has been made into such a big problem. Even the person who wrote it must have thought it's just one of those easy-come-easy-go stories that are forgotten the day after publication.
It seems someone is trying to cash in on your name?

Yes. I've never had any problem with any individual or community. I believe the newspaper and the writer who wrote the story have clarified. But there's a lot of trouble now. I thought the problem was sorted out after the cops checked I had no dogs at  home.
Two days ago, a friend of mine, Shahid Amir (fashion designer), who lives close by and who's a pet lover like me, wanted to know if I had named my dog by a particular name. 
He also told me that people were coming to my house to ransack it. I asked Shahid if, as a close friend, he thought that I was stupid enough to do such a thing.

You  sound very upset.

I am! It's scary! I'm being hounded for something I've never done.