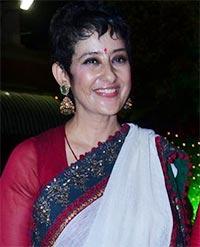 Manisha Koirala, who turned 44 on August 16, is all set to embark on a new phase in her life.
The actress has decided to adopt a baby girl.
Speaking from her spiritual abode -- the Oneness University in Seemandhara, Andhra Pradesh -- Manisha says, "I have decided to adopt a baby girl, so in my own way, I can start a family."
Manisha says she would have adopted a baby girl earlier, but for her sudden health issue. "After my ovarian cancer was cured, I was advised to give it three years before my body would be considered safe from the disease. Those three years will get over next year. That's when I'll feel confident enough to take care of a new life, and will officially adopt a child," she says.
So far, love has been elusive in her life, Manisha admits.
"I have always fallen in love with the wrong people," she says. "I have ended being hurt but I've never been disillusioned by love. I still look for love. I still crave to be in a perfect relationship, though I know it may not be possible to find it. I want to find that perfect love in my relationship with my child."
Spending her birthday at the Oneness University is the best birthday gift Manisha could give herself. "I get the maximum peace of mind here. I'm here with the person who matters the most to me, my mother."
"Life has taught me some hard lessons. I am 44 now. I feel I have now finally understood what the gift of life is," she adds.