Manish Tiwary, 34, wanted to make films after completing his PhD. He approached a few producers but nothing worked out. Things started looking up when his friends told him about filmmaker Prakash Jha, who was looking for someone to direct his next home production. Manish made the call, and luckily for him, he soon found himself directing Dil Dosti Etc.
The young director, who hails from Bihar, talks to Patcy N about his film and more.
Tell us about yourself.
My parents are doctors in Muzaffarpur (Bihar). I studied at Delhi University but completed my PhD from Cambridge University in 2001. From there, I went to Yale University. I have also worked with the UN in Rome. While I was studying and working, I made a couple of documentary films (for the university and the UN).
I just couldn't help but direct. This is how I express myself. I was even a part of a film society in Cambridge. I returned to Delhi and wrote a script that resulted in Dil Dosti Etc.
Why did you come to India to make films since you were already doing documentaries? Why didn't you make a feature film there itself?
I am a hardcore Bihari at heart. Plus, my stories are Indian, and not Italian or English. My audience lies here. If I make a film, I would rather make it in my own country.
What made Prakash Jha choose you?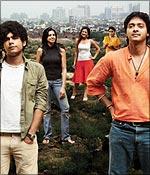 I think he liked my enthusiasm. He said yes to the project because he knew the risk involved was not very high.

 

He has his own set of values for cinema today. But I must say that he did not give me a go ahead after reading the script. He asked me to shoot about 10 scenes with a digital camera. I contacted all the actors -- Shreyas Talpade, Smriti Mishra, Imaad Shah and Ishita Sharma -- who did the scenes for free. After seeing them, Prakash Jha was convinced.

 

What is Dil Dosti Etc about?

 

On

the surface, it is about students in Delhi University and their different concerns and ambitions. Sanjay Mishra (Shreyas Talpade) is a middle class guy from Bihar, who makes friends with the cosmopolitan and extremely rich guy Apurv (Imaad Shah).

 

They have different value systems. For me, there are the two India's -- the conservative and the modern.

 

How was it working with Shreyas and Imaad?

 

I had no particular actor in mind when I was writing my script. I spotted Imaad in a Polo ad and loved his look. He was perfect as the rich but directionless kid. Our casting director pointed out Shreyas to me. I had seen Iqbal but he did not come to my mind until she pointed him out to me.

 

Did Prakash Jha interfere in the direction process?

 

We kept discussing things. I had given him a finished script. He just added one element, to add depth to Apurv's background. So we added his father's character.

 

Prakash Jha came on the sets only for two days. I was given full freedom. There was no interference.

 

What is the music of the movie like?

 

When the script was written, it already had musical scenes. That's what Prakash Jha liked. We have two music composers because there are two different feels of the film. Shreyas and Imaad are two important characters -- one had foot-tapping Punjabi numbers by Suhas Siddharth and the other had soulful music by Agni. 

 

Tell us about the actresses, Ishita Shrama, Nikita Anand and Smriti Mishra.

 

Smriti is a well-known actress and it is unfortunate that she has not got many films. Ishita is a discovery. We auditioned and liked her. Ditto with Nikita. She signed her first movie with us but has done a cameo for a Vikram Bhatt film.

 

What next?

 

I am working on another script, this time based in Mumbai. The treatment for this will be very different from Dil Dosti Etc.