There was a time when Dilip Kumar, Raj Kapoor and Dev Anand were dubbed the three pillars of the Hindi film industry.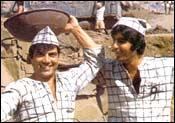 They rarely shared screen space with another hero and were happiest appearing in central roles.
Come to think of it, some of the most impressive two-hero pairings happened during Amitabh Bachchan's reign as a superstar.
Nowadays, filmmakers cleverly cast a hot star with another talented but not so popular actor. This works to the advantage of both the heroes if the film becomes a hit. It is all about two odds making an even.
For example, Salman Khan wasn't doing well before Karan Arjun. The other hero of the film -- Shah Rukh Khan -- was steadily climbing the popularity charts. Fortunately for the Khans, it worked and Karan Arjun became a blockbuster.
The current crop of actors prefers to play it safe and doesn't mind two-hero flicks or multi-starrers. Of course, there are exceptions. Barring that odd film, actors like Ajay Devgan, Sunny Deol, Aamir Khan and Hrithik Roshan like to keep it solo.
Here, rediff.com takes a look at few of Bollywood's best male jodis:
Amitabh Bachchan and Co:
The superstar has to be at top of everything. Amitabh Bachchan paired successfully with the most number of heroes.
The vibe between Bollywood's Jai and Veeru was just right. AB and Dharmendra bonded wonderfully without cramming each other's space in films like Sholay, Ram Balram and Chupke Chupke. In the under-production, Hum Kaun Hai, the two actors come together for a special appearance after 14 years.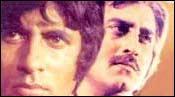 Then there is Rajesh Khanna. The duo worked together in Hrishikesh Mukherjee's Anand and Namak Haram. Who can forget the heart-warming chemistry between the docile Babu Moshai and vibrant Anand? Apparently, while filming the death scene, instead of conveying the seriousness of the situation, the two were laughing uncontrollably.
Anand was tailormade for Khanna and he walked away with the credit. A few years later, Namak Haram happened and AB bagged the sympathy votes.
Vinod Khanna was riding the high horse when filmmakers decided to cash on his popularity along with Bachchan in films like Muqaddar Ka Sikander, Amar Akbar Anthony, Parvarish, Hera Pheri and Zameer. Interestingly, at one point, Khanna was considered Bachchan's biggest rival in achieving the numero uno spot. His conventional good looks and sexy personality made many women weak in the knees. Destiny, however, let the dark horse win. Number one or not, the two tall men came together for a bunch of box-office bonanzas.
They shared a love hate relationship on screen and reportedly off screen as well. The verbose Shatrughan Sinha's rustic personality and Bachchan's diplomatic number clicked magically on celluloid. They played friends with conviction in Dostana, Kaala Pattar, Naseeb and Shaan.
But it was the suave Shashi Kapoor who played Big B's partner in crime the most. The charming duo worked together in some memorable films like Trishul, Deewar, Namak Halal, Kabhi Kabhie, Shaan, Silsila and regular ones like Suhaag and Do Aur Do Paanch. During the making of these films, the two became good friends. Years later, when Kapoor made his directorial debut in the lavish Indo-Russian venture, Ajooba, he cast Bachchan in the title role.
Anil Kapoor and Jackie Shroff: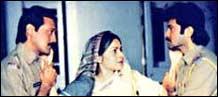 When the two Subhash Ghai favourites got together, they raked in the moolah big time. In almost all their movies together, Jackie Shroff played the reserved good guy and Anil Kapoor the bratty rogue. Out of the many films they worked in together, Shroff played big bro to Kapoor. Audiences enjoyed this tussle.
And the Kapoor-Shroff jodi became a catch. They were seen and loved in Andar Bahar, Yudh, Kaala Bazaar, Ram Lakhan, Karma, Parinda, Kabhi Na Kabhi, Trimurti, Roop Ki Rani Choron Ka Raja and Lajja.
Sanjay Dutt and Salman Khan: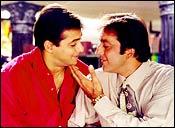 The brawny Sanjay Dutt and Salman Khan first starred together in the superhit love triangle, Saajan. Their off-screen friendship reflected on the big screen as well. Like Dutt, Khan sported a long haircut and got into serious body building.
Despite the huge success of Saajan, Dutt and Khan weren't cast together for a long time. Filmmaker Mukul Anand revived the hit pair for his ambitious Dus. Anand's sudden demise resulted in the shelving of the film. Although they played affectionate brothers in Chal Mere Bhai, nothing could match the magic of Saajan.
Akshay Kumar and Saif Ali Khan:
Applying theory of opposites attract, Akshay Kumar and Saif Ali Khan always played characters that are poles apart from each other. In Main Khiladi Tu Anari, Akshay was the no-nonsense cop and Khan the easygoing actor.
For Yeh Dillagi, Akshay played the sober gentleman and Saif the incurable skirt-chaser. These two films came in quick succession and were hits. When others tried to overdo the contrasting personality bit in Tu Chor Main Sipahi and Keemat, they failed.
Akshay Kumar and Suniel Shetty: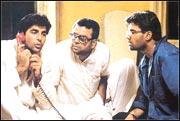 They made a perfect team. Both action heroes with fabulous physiques and excelled in action. It was double delight for masses as Akshay Kumar and Suniel Shetty kicked butt in films like Waqt Hamara Hai, Hum Bemisaal Hain and the action-packed Mohra. But instead of sticking to the beat 'em-bash 'em routine, the two musclemen experimented with their pairing.
Whether it was romancing the woman of their dreams in Dhadkan, playing the cat and mouse game in Here Pheri or playing eccentric gangsters in Awaara Pagal Deewana, the two emerged winners.
Saif Ali Khan and Shah Rukh Khan: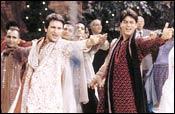 They are the chilled-out jodi of today. Although Saif Ali Khan and Shah Rukh Khan have worked together in just one movie (Kal Ho Naa Ho), they are hotter than John Abraham and Bipasha Basu put together. Their mischievous-to-the-point-of-insolence and cheekier-than-thou attitude has caught everyone's fancy.
SRK's smart dude and Saif's cute guy image blends well, really well. No wonder the duo was asked to co-host the Filmfare Awards function second year in a row. What's more, they even feature in the latest Pepsi commercial. And for once, they aren't taking jibes at homosexuality.