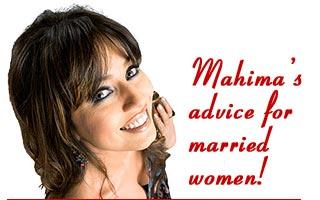 Are men polygamous by nature? The definitive answer might have eluded social and behavioural scientists, but not Mahima Chaudhry. The actress is sure the answer is 'no'.
"It is just an excuse for men to stray around by using such words," says Mahima.
"It is also said that men are genetically strong. Then they must be able to lift heavy suitcases more comfortably than women but I have seen many times women lift suitcases when men can't," she adds.
After her break-up with tennis star Leander Paes two years ago, Mahima has been lying low on the personal front. The two split after Mahima accused Leander of having an affair with Rhea Pillai, actor Sanjay Dutt's estranged wife.
"I know many men who say they are not meant for marriage -- they don't believe in the institution. I respect them more than someone who cheats behind your back. It shows the character of the person. Therefore, I walked out of the relationship [with Leander]," says Mahima.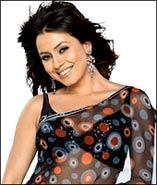 "My choice for life partner has been pathetic. So, I have told my mother to look into it," she adds, laughing.

With two releases due this year -- The Film and Home Delivery -- Mahima has got her fingers crossed.

"The songs of my last film Kuch Meetha Ho Jaye became bigger than the film, but it is okay. Many times things don't work out as you expect. I believe god is a big leveller in life," she says.

Ask her to name a favourite film she is quick to say Lajja (2001).

"If you recall the Nisha Sharma dowry case in New Delhi, she was inspired by my film Lajja, in which a woman stands up for her rights.

"Even after the break-up with him, I told the world it is women who should stand up and say 'get lost' and not the other way round," Mahima says, carefully avoiding the name Leander.

"The women [who have gone through break-ups] should not feel:

'What was wrong with me?' Why should I feel bad when the fact is that he is cheating on me? My move [to call the relationship off] gained me lot of respect among women."

But in this day and age, does anyone really care about who calls off the relationship and why? "You see, that is the worry. Today, people don't fear the society as they used to do earlier in case of extramarital affairs."

And, Mahima has advice for women who are suspicious of their husbands' fidelity:

"The day a man who is rich enough decides he does not need a driver, then that means he has something fishy going. This is the first signal of a dishonest man. We all are brought up on some values and I believe values define a man's character."

Talk veers to her next release, Home Delivery.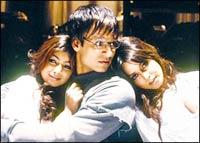 "I play a South Indian actress in the film. This is my first serious attempt at comedy and I hope people like me. So far I have been always categorised as a serious actress and I hope to break that mould with Home Delivery."
The film, directed by Sujoy Ghosh (Jhankar Beats), also stars Vivek Oberoi, Ayesha Takia and Boman Irani. It is directed by Sujoy Ghosh who directed Jhankar Beats.
"The title reminds people mostly of pizza boys or a courier boy, but let me tell you that this film is not about them. It is a fun film and will bring smiles on people's faces," says Mahima. 
Ask her what has kept big banners away from her, and she smiles: "It is better you ask this question to them [the big banners].
"There are so many talented actors today in the industry. There are 40 people who are not working in the top production houses of our country, but that does not mean they are not good actors. I feel if they need me they will call me. So it is better to wait rather than rue."
Who is her inspiration? "Saif Ali Khan," is her quick reply.
"I always knew how talented Saif is, but he was never in the top league. But today, he is right on top."