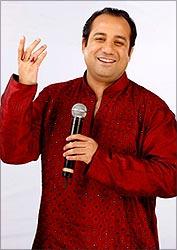 After the
recent controversy
, singer Rahat Fateh Ali Khan -- along with social worker Yusuf Salahuddin -- addressed a press conference in Lahore, Pakistan, and cleared the air about the treatment meted out to him in India.
The Pakistani singer, left, said he was thankful to the Indian authorities and added that he was not mistreated as he had cooperated throughout the investigation.
Rahat revealed that among all the Indian filmfolk he had worked with, only director Mahesh Bhatt had stood by him through the ordeal.
Bhatt confirmed this in a telephone conversation with Rediff.com
"Yes, I supported Rahat during the crisis," he said. "Even emotional support helps, and that's what I did. I didn't get a chance to speak to him directly, but I spoke to Yusuf Salahuddin, who is a dear friend of mine, and told him that Rahat was a singer and not a criminal."
"At the end of the day, human beings make mistakes," Bhatt continued. "Rahat broke the law of our country, but just because he is a Pakistani, the issue was blown out of proportion."
Bhatt said he was furious when he read reports about Rahat financing terrorism. "I have known him for many years. Where does the question of terrorism arise? He has violated the law and I advised him to be a man and face the consequences. I feel he has shown a lot of courage," Bhatt said. "He, along with the officials, have handled the case really well."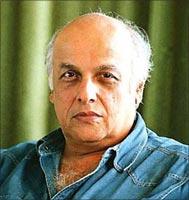 Rahat made his Bollywood debut singing for Mahesh Bhatt's production Paap in 2003. But that was not the reason why Bhatt stood by him, the director said.
"This is not the first I have done it," Bhatt, left, pointed out. "I stood by Sanjay Dutt when he was caught for possessing guns. I was also there with (diamond merchant and film financier) Bharat Shah when he was caught on the wrong side of the law."
Rahat Fateh Ali Khan was detained at Delhi airport on February 13 when Directorate of Revenue Intelligence officials, acting on a tip-off, found he was carrying $124,000 on him, which was in violation of India's Foreign Exchange Management Act and customs rules.
After almost 10 days in Delhi, being questioned by the DRI about the source of the money, the singer was allowed to leave India after paying a fine of $33,216. He arrived in Islamabad on Wednesday.
Rahat Fateh Ali Khan has promised to be back in India soon.
ALSO READ: Rajkot police denies tipping off DRI about Rahat
Who is Rahat Fateh Ali Khan?