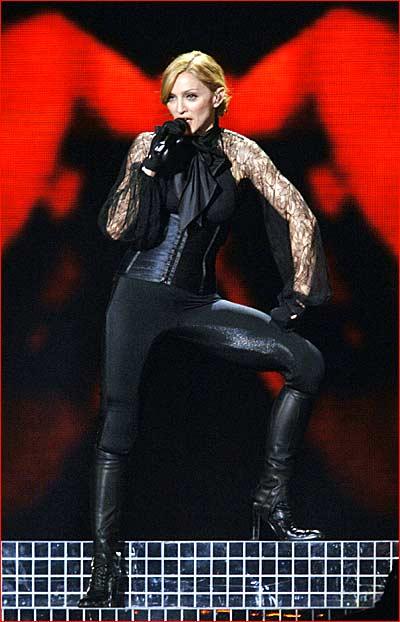 Madonna makes headlines. She always does.
The superstar's debut concert in Russia on Tuesday had several critics, most protesters from the Orthodox Christian Church, condemning her misuse of religious symbols on stage.
Her Confessions tour has been kicking up outrage and controversy (and selling out stadiums) across Europe this summer, protests heightened about a song sequence when the singer dons a thorny crown and is raised upon a cross.
Russian fundamentalist Christians labelled the singer 'the subject of a holy inquisition,' and protesters at Moscow's Luzhniki Stadium drove a stake through a Madonna poster, calling her an American Satanist.
Moscow, relegated over the years as a destination for has-been music acts, has been enjoying a series of high-profile concerts in recent months (Sting and The Black Eyed Peas both performed there this summer) in keeping with the capital's growing consumerism.
But 50,000 fans didn't care about the protests.
And neither did the superstar.
Sticking to her guns, Madonna performed the controversial number just the way she wanted, and while it may have taken 7,000 police officers to maintain the peace, the concert went off without incident.
In the end, Mother Russia and Lady Madonna had quite the party.
Photograph: Getty Images