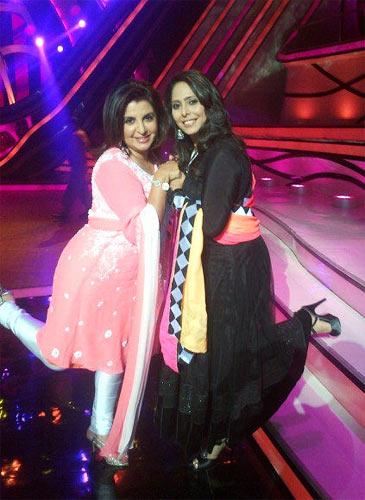 Geeta Kapoor wasn't a known face until a few years ago. After the reality show Dance India Dance, she has become a household name.

Before turning to television, Kapoor assisted choreographer Farah Khan in films such as Kuch Kuch Hota Hai, Dil To Pagal Hai, Kabhi Khushi Kabhie Gham, Mohabbatein, Kal Ho Naa Ho, Saathiya and Tees Maar Khan among others.

Now she is back to judging but on another reality show, India's Dancing Superstars on Star Plus.

Kapoor finds India's Dancing Superstars difficult to judge. "Dance India Dance was a different format altogether. It's more difficult here because you are seeing people of all ages and groups. And it has more potential to scare you in terms of passing a judgment because you see stuff that is unbelievable."

She approves of reality shows because "for the common man, reality shows help them to prove their talent and it gives encouragement."

Kapoor learnt professional dancing at the age of 15. Choreography wasn't what she had set out to do. "I was training to become an air hostess. I had cleared the exams with great results. My father was in the airlines and that's where I wanted to be."

But dance is what eventually led her to the industry. She says she was lucky to be at the right time at the right places.

Talking about her childhood, Kapoor says, "My mother kept me occupied with various things like classes in dancing and craft etc. I started liking dance, from folk to classical dance. By the time I was six years old, I was in professional dancing."

Kapoor met Longinus, who choreographed Jai Ho (from Slumdog Millionaire), and he introduced her to Jaaved Jafferi with whom she did a lot of stage shows.

"I was 15 when I joined Farah Khan. I danced in her place when she was unwell. She took me into her troupe. I was the youngest of them all. I got an opportunity
to work as her assistant. From 1994-95, I worked with Ken Ghosh and did several musical videos. In 1996, I joined Farah and after that I have never looked back."
Was it difficult for her to come out of Farah Khan's shadow?
"I don't think it was difficult for me. Actually, she is the one who pushed me out of her shadow, and told me to grab an opportunity. I work on my own also. Whenever she calls me I go. Now we are working on
Yeh Jawaani Hai Deewani
with Ranbir and Madhuri Dixit."
She has choreographed very few films and says this is because "I don't like doing too many film songs as it takes up lot of my mind."
Geeta Kapoor was a background dancer in many song sequences in
Dum Tara
of Suchitra Krishnamoorthi and in
Kuch Kuch Hota
Hai's song
Tujhe Yaad Na Meri Aayi
and
Nayak.
"I miss being a dancer and doing it for fun," she explains. "I did shows in college but then I was scared and shy. I am still quite self-conscious."
Dance obviously means a lot to Geeta Kapoor. "It means my house runs because of dance. I meet different people. I am who I am today because of dance," she says seriously.
Her favourite choreographer is, of course, Farah Khan. "Farah Khan is a trendsetter and my favourite choreographer. I like everything about Farah; she is like my mother."
And the one actor in Bollywood that she would like to choreograph?
"I want to choreograph Ritiesh (
Deshmukh
) and make him do something different. He has a fantastic sense of rhythm but lacks self-confidence in dancing. He is a brilliant dancer, but he is lazy. I will create something for him," she says of her co-judge on the show.
In Kapoor's opinion, Madhuri Dixit, Rani Mukerji, Aishwarya Rai and Ranbir Kapoor are the best dancers in Bollywood.
Any plans for directing a dance film? "No. I don't think so... I might do a musical on stage but not for films. I have this strong feeling that I can't direct," she says frankly.