I was born in a sprawling house by the Yamuna River in Delhi. When I was a few minutes old, Grandmother welcomed me into the world by writing 'Om,' which means 'I am' in Sanskrit, on my tongue with her little finger dipped in honey.
When the family priest arrived to draw up my horoscope, he scribbled astrological symbols on a long scroll, and set down a name for me, Indrani, or 'queen of the heavens.'
My father ignored him completely and proclaimed my name was to be Madhur ('sweet as honey').' So begins Climbing the Mango Tree: A Memoir of a Childhood in India (Knopf, 320 pages, $25).
Madhur Jaffrey, popularly known as the curry queen, is the author of over a dozen bestselling books on Indian food.
She is also a distinguished actress whose films include Heat And Dust. Two years ago, she played the wise slum mother in the Broadway musical, Bombay Dreams.
Her memoir is about her difficult but not unrewarding childhood. It is also the story of how New Delhi changed following the Partition of India, and how her vast network of uncles, aunts and cousins, not to forget her own family, shared happy (and on some occasions) unhappy moments.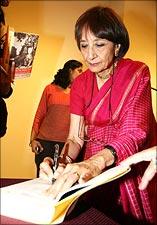 Food and its aroma is ever present throughout the book, and Jaffrey serves over a dozen family recipes that stood her well when she began cooking in London.
She was just about 18 when she began studying drama at the Royal Academy of Dramatic Art in London. In no time she missed her family food. She had no idea then that she would go on to become the most popular expert on Indian food.
Britain's Good Food magazine recently voted the petite food writer among the world's 20 most influential foodies along with television legend Delia Smith.
Jaffrey is also known for her film work with Merchant Ivory Productions. Her performance in the company's Shakespeare Wallah (1965) was her first in feature film for that company and earned her the Silver Bear as Best Actress at the Berlin film festival.
She discusses her life and times with Arthur J Pais.
Why did you wait so long to write this book?
(Chuckles). Publishers have been asking me to write it for a very long time. But I simply didn't have the courage to start it.
What made you change your mind?
The publishers kept on asking me, and I kept on saying 'no' for a very long time. Finally, I gave in. But I must say that the book was done pretty reluctantly.
And why was that?
I came from a loving family and yet there was a lot of unhappiness in my childhood. I was afraid to bringing it up. I was also afraid to write about some of the unpleasant things that happened in our extended family.
Why were you so unhappy as a child?
Academically, I did very well but I had the feeling that I was not good looking.
You have also said in a recent interview you thought you looked like a dork.
Yes, and I did, too. I was on the shorter side and I wore glasses. But mentally, I had convinced myself that I could survive anywhere. 
What do you remember about your parents?
The trust they had in me. Because I felt terrible about how I looked, I also became unafraid. I was not afraid to climb the mango trees and do the kind of things boys did. My parents knew my passion for acting and they let me go to England and be all by myself.
You have said it was like hitchhiking…
(Chuckles) I knew the journey I had started wasn't going to be easy but I also knew it going to be exciting, and my parents let me do it. I was a peculiar mixture of intellectual arrogance and fear.
You have said in an interview that you were hijacked into the world of food.
I had never thought of writing books on food, and teaching people to cook. I had to raise three daughters all by myself when my marriage (to actor Saeed Jaffrey) ended. I moved to New York from London and took up any job that came my way, including working at the United Nations as a guide.
I also began as an actress, and though my early films such as Shakespeare Wallah received a lot of attention, I also knew there was not enough money in acting. I wrote for magazines such as The Smithsonian. But somehow, the food stories just took off. And soon I was showing people on television (BBC and PBS) how to cook Indian food.
Why was that there wasn't much money in acting for someone like you?
For one thing, there was hardly any colour-blind casting in the films in the 1960s and for many years after that. People like me got only limited roles, that too in some of the films Ismail Merchant produced. I took up writing for magazines to supplement my income, and I wrote on travel, dance, and food.
You hardly did anything in your family kitchen. How did you start cooking?
It began in the 1950s when I was studying drama in London. I found food in London just dreadful. In despair, I wrote to my mother who began mailing me the recipes. More than 15 years later, when I began working on my first cookbook, those recipes helped me immensely.
You write in the book (Climbing the Mango Trees) about some of the momentous decisions you took up as a child. Would you tell us about some of those decisions? 
The decision to study Hindi instead of Urdu, though I was quite fond of Urdu. I am glad I chose Hindi. That meant I learned the language of my country.
But Hindi also came to be useful when you were learning to cook, isn't it?
(Chuckles). Certainly. My mother was eight-class-pass, and which meant that she did not go to high school. She did not know English. The recipes she sent me were all in Hindi.  
What would be another momentous decision for you?
Learning to act when I was in college in Delhi. Acting, particularly in  Shakespearean plays, made me happy. It showed that I could after all do something beautiful. The thought that I could do something that occupied my life filled my heart with joy. And that thought led me to go to London to study theatre.
What kind of solace did you find in acting?
I now think that actors can escape from being themselves. But when I began acting in the college plays, it was the pleasure of being on the stage that made me want to do more roles. Escaping from oneself also requires so much ingenuity, energy and concentration that it fills the mind and body. And that can be very satisfying.  
You write in the book that it never occurred to you for a very long that not every family had had many children and dozens of cousins and relatives. Did you think of it when you were in England?
No. It was only in America I thought of it. In London, I was too preoccupied with my studies to realise the absence of large families. So when I came to America and I got married [to Sanford Allen, a musician] did I start thinking about a large family. When my children were growing up, I asked myself -- where are their aunts and uncles, where are their cousins?
So how did you go around changing it?
(Chuckles). In one way, taking the children to India helped. They got to meet so many cousins, uncles and aunts that India became nothing but just the family to them. When my three daughters got married and had their children, we made sure that the cousins met often.
Why did you not write a full-length autobiography?
Life became messier when I fell in love and got married. There were too many painful things that I had to deal with. I just did not have the stamina to bring up those things.
Now that you have overcome the fear about writing about your childhood, won't you consider writing about your marriage and life as an actress and writer?
Perhaps I will do it one day.
What would take a publisher to convince you to continue [writing about her married life]?
(Laughs). I don't know, I really don't know.
Though people associate you with the films of directors Ismail Merchant and James Ivory, you also do occasionally films for other directors, isn't it?
I played Meryl Streep's psychotherapist in Prime and you will find me with Robert De Niro in Flawless. The latter role was written for any doctor. I wish there was more colour-blind casting when I began working in films.