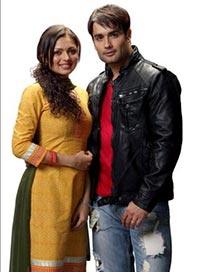 Latest rumours from the sets of long-running Colors show Madhubala suggest that it may be time for curtains on this one, thanks to growing differences between its lead players Vivian Dsena and Drashti Dhami.
When quizzed about the serial's future, Dsena seemed uncertain.

"I know I am working in the serial now. I never think about the future.
"I know I have a fan base. I also know I can't fool them or take their support for granted. If what I am doing doesn't make my audience happy, I'll have to think of what to do next," he said.
When asked about his reported animosity with his leading lady, he retorted, "I am available for shooting for as long as the serial is on. As far as my rapport with Drashti is concerned, I am not here to make friends. We are all professionals. We are here to do our jobs. How we feel about one another is not of any importance."
So how would he describe his rapport with Drashti?
"I won't say she's a friend. We are cordial with one another. Beyond that, we have no communication," he replies.
People in the know believe that the feud was started after Dsena made an unfavourable remark on Twitter about Dhami's unceremonious exit from Jhalak Dikhhla Jaa this season.
The actor, however, refutes the same.

"I posted my favourite song on Twitter. People interpreted it as a barb against Drashti.

"I am not one to beat around the bush. If I want to say something about somebody, I'd say it upfront and not hide behind veiled comments. I've nothing to say about Drashti. We meet only on the sets and our association will last as long as the show," Dsena signs off.

Image: Drashti Dhami and Vivian Dsena in Madhubala