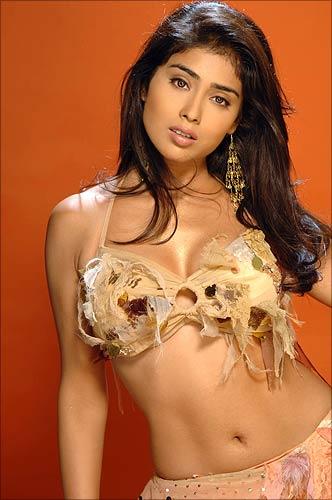 It pays to be Rajnikanth's heroine.
Take the case of Telugu-Tamil actress Shriya Saran. The actress, who starred in the blockbuster Sivaji:The Boss opposite Rajnikanth, bagged her first English film, The Other End of the Line opposite Jesse Metcalfe (of Desperate Housewives fame), Sara Foster and Anupam Kher.
Co-produced by Ashok Amritraj, the film is about an Indian call centre employee who falls in love with a man over the phone, and goes to San Francisco to meet him.
Shriya's part was initially offered to Priyanka Chopra. However, when Amritraj saw Shriya in Sivaji, he was convinced that she suited the part.
The actress, who also starred in Mahesh Bhatt's Awarapan opposite Emran Hashmi, will be seen next in Apurva Lakhia's Mission Istanbul which stars Zayed Khan, Vivek Oberoi and Suniel Shetty.
Also in the pipeline is Kandaswamy with  Vikram, where the actress sports a stylish and hip look.