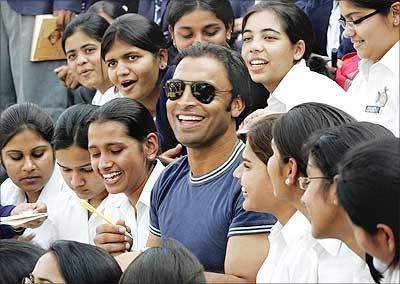 Main Aur Meri Himmat sounds like the name of some action flick. However this movie would be an outright comedy and guess who would be playing the lead? None other than the bad boy of cricket, Shoaib Akthar.

 

Akthar, who is in Bangalore to play the final Test against India at the Chinnaswamy stadium from December 8 onwards, approved the script for Main Aur Meri Himmat to be directed by Sanghamitra Chaudhary and produced by Nissha creations.

 

Sanghamitra was at the Hotel Grand Ashok, Bangalore where players of both the Indian and Pakistan team are staying. After a long wait, she finally got an appointment with Akthar who had been given a copy of the script earlier. Akthar who read through the script is said to have approved the same and is also eager to act in the movie.

 

Sanghamitra after meeting with the cricketing hero told rediff.com that he is very excited about the movie. Shooting should commence once they sort out certain issues with Akthar's business partners. There are some formalities which are to be completed, she said.

 

Sanghamitra

says that the movie will focus more on Shoaib as a person rather than a cricketer. She says that she has always been interested in the lives of cricketers since a young age. She says that the movie will take everyone by surprise when they see Akthar playing an entirely different character compared to what he is off screen.

 

The film will be shot in Punjab, Lahore and Lucknow and the director is trying to rope in more characters from both the Indian and Pakistan teams for the movie. The female lead for the movie has not yet been decided. Sanghamitra is trying to rope in either Deepika Padukone or Hansika Motwani for the role.

 

The amount that Shoaib will be paid for the movie still remains undecided. Sources say that he has demanded Rs 8 crore to do the movie. However the producers had offered him just Rs 1 crore, which again is one third of the total budget of the movie. This aspect is yet to be finalised.

 

Text: Vicky Nanjappa | Photograph: Prakash Singh/Getty Images

 

In the picture: Shoaib Akhtar smiles while giving autographs to children during a visit to Scindia school in Gwalior.