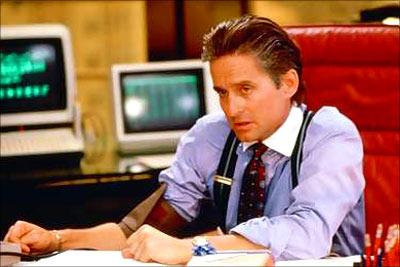 Lunch is for wimps," said Gordon Gekko.
The ruthless capitalist shark seen in Oliver Stone's 1987 film Wall Street, played by Michael Douglas -- the character nabbing him a Best Actor Oscar -- is all set to wear his suspenders and chant his money-hungry mantras for a new generation.
Money Never Sleeps, set to go into production early next year, is produced by original producer Ed Pressman -- who also recently produced Thank You For Smoking, which also, interestingly enough, featured a character (Rob Lowe's Jeff Megall) who didn't sleep. Like Gekko.
The 1987 original wasn't a massive commercial success, but gained a cult status via a dedicated video following, and Gekko -- whose impact made suspenders popular across Wall Street brokers -- remains one of the most quotable film figures.
Michael Douglas will be reprising the role. Unfortunately, original director Oliver Stone has pulled out of the project.
And if you're thinking just what Gekko said, here's a super-memorable recap:
'The point is, ladies and gentleman, that greed, for lack of a better word, is good. Greed is right, greed works. Greed clarifies, cuts through, and captures the essence of the evolutionary spirit. Greed, in all of its forms; greed for life, for money, for love, knowledge has marked the upward surge of mankind. And greed, you mark my words, will not only save Teldar Paper, but that other malfunctioning corporation called the USA. Thank you very much.'
No, thank you, Mr Gekko. We look forward to seeing you again.